20 best vegetarian recipes: portion 4
Yotam Ottolenghis cauliflower cakes, Vivek Singhs dosas, tasty halloumi veggie burgers and more, all chosen by Observer Food Monthly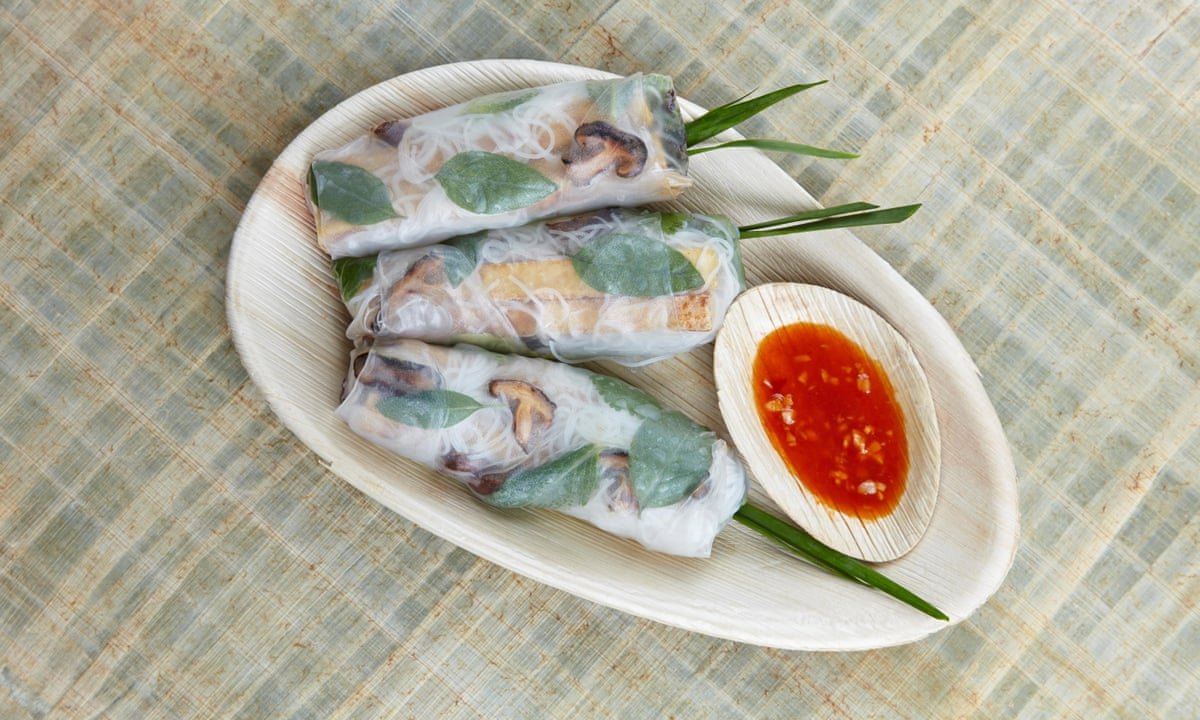 Uyen Luus tofu and soy shiitake summer rolls
This utterly delicious traditional vegan summertime roll recipe is full of flavor from the fresh abundance of crunchy herbs and delivers a meaty texture of tofu and shiitake. The herbs utilized are traditional and often can be found at Asian supermarkets, but, if they are hard to source, it is still delicious with only coriander, mint and Thai basil.
Makes 6
dried shiitake 30 g
cooking petroleum 2 tbsp
soy sauce 1 tbsp
firm tofu 250 g
rice vermicelli 30 g
salt a pinch
vinegar a dash
rice newspaper sheets 6, about 22 cm
lettuce leaves 6
coriander sprigs 12, husk on
mint leaves 18
Thai basil leaves 18
cockscomb mint leaves 18
shiso/ perilla leaves 18
garlic chives 6, halved and head removed
For the dipping sauce
cooking petroleum 1 tbsp
garlic 1 cleave, chopped
hoisin sauce 2 tbsp
white wine vinegar or cider vinegar tbsp
sugar 1 ts
Sriracha chilli sauce tbsp
roasted salted peanuts 2 tbsp, crushed
Rehydrate the shiitake in warm water for about half an hour then drain and rinse. Use your hands, squeeze off any excess water, then slice the shiitake.
Add a tablespoon of cooking oil to a frying pan on medium heat and fry the shiitake for 5 minutes with a tablespoon of soy sauce. Set aside.
Slice the firm tofu into 1cm strips and dry off any excess water with kitchen paper. Add a tablespoon of cooking oil to the same frying pan on a medium hot and gently brown off each of the sides for about 5 minutes a side or until golden. Then remove from the pan and dry off any excess petroleum and let cool.
Put the rice vermicelli, a pinch of salt and a dash of vinegar in a bowl or pan of simmering water, encompas and allow to cook for five minutes or until soft. Drain and rinse with hot water until water runs clear.
Once the tofu, shiitake and vermicelli are cooled put them and the remaining filling ingredients in their own individual bowl in front of you. Pour some warm water into a tray deep and large enough to submerge the rice paper sheets. Use a plastic board as a base on which to make the rolls.
Dip a sheet of rice paper into the water and take it out as soon as it is moist all over do not let it sit in the water. Lay the sheet on the plastic committee. Imagine the sheet is a face and now place the filling where the mouth should be: line up a couple of tofu slice, 4 slices of shiitake, 1 lettuce foliage and a sixth of the vermicelli and torn herbs( except the garlic chives ). Fold the 2 sides inward over the filling, as if making an envelope.
Now fold the bottom corner over the fill. Put 2 pieces of garlic chives along the roll with the tips sticking out of one objective of the roll. Start to roll up the package tightly, pushing it forward and tucking in the filling in a neat cylinder as you roll it towards the far side of the sheet. Keep in an airtight container or wrap in clingfilm while you assemble the remaining rolls.
For the dipping sauce, heat the petroleum in a saucepan over medium heat. Fry the garlic until it browns somewhat. Add the hoisin sauce, vinegar, sugar, chilli sauce and 1 tablespoon of water and bring to a gentle simmer. Pour into dipping bowls and sprinkle the peanuts on top. Serve with the rolls for dipping.
Uyen Luu is the author of My Vietnamese Kitchen( Ryland, Peters& Small, 16.99 ). Click here to order a copy from Guardian Bookshop for 12.99
David Frenkiel and Luise Vindahls halloumi veggie burgers