Anna Jones's party recipes for noodle bowls and dumplings | The modern cook
Anna Jones recipes: Its party time, and where theres drink, there should be food which must be friendly, fresh and flavoursome, like these little peanut noodle bowls and mini squash dumplings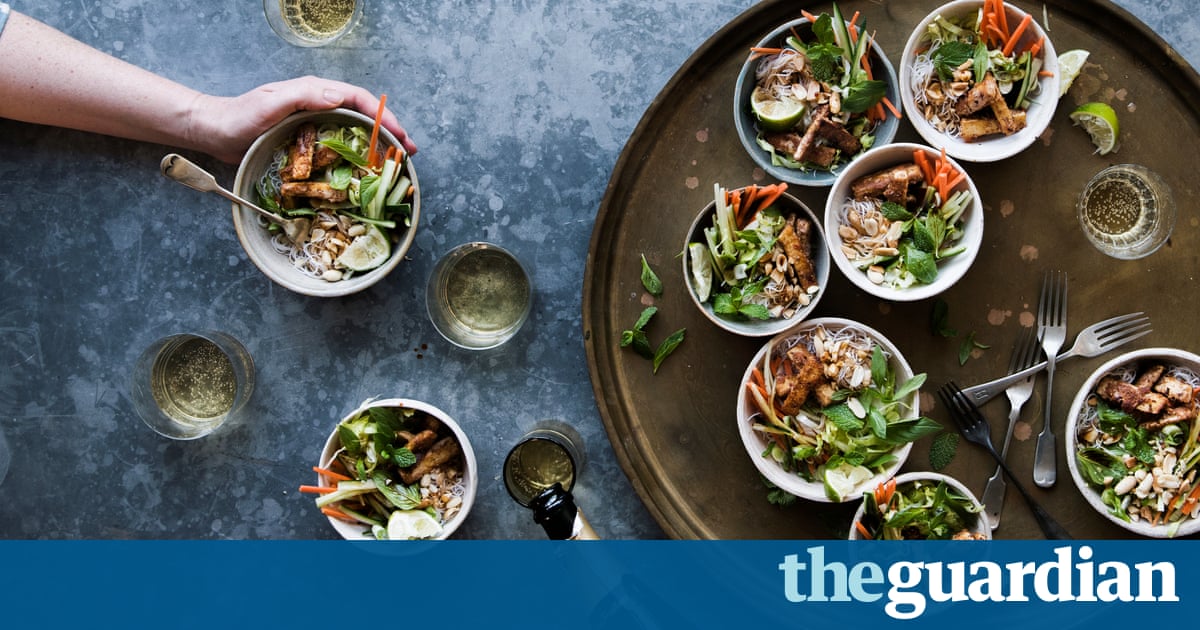 I am that person at a party, desperately following the one tray of vegetarian canapes around, trying to sneak a second mouthful before I get noticed. I cant count the number of parties I have left a little bleary because there just wasnt anything to eat. As far as I am concerned, where theres drink, there should be food for everyone. So I have three things I keep in mind when I am making food for a party.
While its hard to cater to all tastes and whims, I cook food that I hope almost everyone can eat. This is a party and no one wants to feel left on the sidelines. Party food should be friendly, not too fussy, casual and convivial. Canapes arent my thing; I prefer something a little more substantial, colourful and full of flavour. One thing I always crave at a party is light, fresh food especially with champagne or anything bubbly. I like a hit of freshness and chilli to pep everyone up, clean flavours that sing. Punchy Asian flavours, like the recipes below, are what I want when Im chatting and sipping a drink.
Little peanut noodle bowls
These little bowls of bun cha a fragrant, delicate rice noodle salad are a take on the original Hanoi recipe. Ive made it my own with chilli-spiked peanut butter tofu. Its half noodles, half salad, all flavour. Here many of my favourite things jump into the same bowl: crispy tofu, bright and zippy vegetables and sprightly herbs. For a quick assembly, have everything prepped and lined up and your bowls in a row so you can quickly drop each element in and move on to the next. If you can get your hands on some Vietnamese basil, mint, coriander and perilla, it would take this bun cha to the next level, but Ive kept it simple with mint and coriander here.
Makes 10 small bowlfuls
For the tofu
400g firm tofu, chopped into 5mm fingers
2 red chillies
2 garlic cloves
1 stalk of fresh lemongrass
2 tbsp soy sauce or tamari
Juice of 1 lime
2 tbsp peanut butter
Coconut oil
For the noodles and veg
250g rice vermicelli
1 small iceberg lettuce
2 large carrots
1 cucumber
4 spring onions
1 ripe avocado
A small bunch of fresh coriander
100g unsalted peanuts
A small bunch of fresh mint or other herbs (see introduction)
For the dressing
A small thumb of ginger, peeled and finely chopped
2 tbsp runny honey or maple syrup
2 tbsp soy sauce or tamari
Juice of 2 limes
1 tsp sesame oil
Good dash of chilli sauce
1 Put the tofu into a bowl. Finely chop the chilli, garlic and lemongrass. Set aside half the chilli and garlic and add the rest to the bowl of tofu with all the lemongrass, the soy sauce and half the lime juice. Set aside to marinate.
2 Mix the other half of the lime juice with the peanut butter and a splash of water and set aside.
3 Put the vermicelli into a bowl, cover with boiling water and leave to soak for 3 minutes, or follow the packet instructions.
4 Shred the lettuce. Cut the carrots and cucumber into matchsticks. Finely slice the spring onions. Slice the avocado thinly. Roughly chop the coriander and do the same to the peanuts.
5 Make the dressing by mixing the reserved chilli and garlic with the rest of the dressing ingredients.
6 Heat a pan and add a little coconut oil. Drain the tofu, reserving the marinade. Once the oil is hot, add the tofu to the pan and fry until browned on all sides, then add the peanut butter mixture and the reserved marinade, and toss together to coat. Take it off the heat.
7 Pile the drained noodles into the bowls and top with the vegetables, coriander, peanuts and roughly torn mint (or other herbs if you have them). Put the tofu and any marinade left in the pan on top and pour the dressing over. Each guest can mix up their own bowl.
Read more: www.theguardian.com