Bake Off's most memorable moments so far – BBC News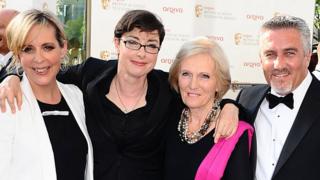 As the final episode of the last BBC series of The Great British Bake Off looms, we look back at some of the most memorable moments from the show so far.
Click on the form at the bottom of this page to send us images of your most memorable bakes – the fantastically good or the hilariously bad. Did your souffle fall flat or was your sugar work spectacular? Let us know.
Baked Alaska-gate (series five)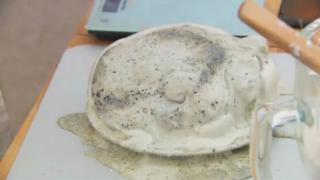 Oh dear. Who can forget the moment when Iain Watters went into meltdown after his ice cream creation sank into a wet gloop in the heat?
"Look at it, you cannot present it," he said, before putting it in the bin and walking out of the tent, much to host Sue Perkins' shock.
Earlier, fellow contestant Diana Beard was shown taking the dessert out of the freezer, which resulted in some Twitter users blaming her for the melted dessert.
But she said his ice cream had been out of the freezer for no more than "40 seconds" and that her "conscience was intact".
Watters later said: "I had some issues with the ice cream and let that get the better of me."
Bread lion (series six)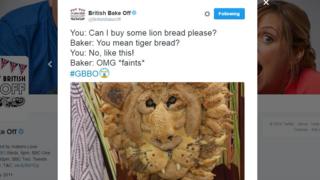 Bake Off roared its way into bread week with Paul Jagger's king of the beasts made from dough – complete with herbs for whiskers.
It had a level of detail which drew praise from judges Mary Berry and even bread expert Paul Hollywood, who said: "That is one of the best things I've seen in bread – ever."
Paul (the contestant) didn't reach the dizzy heights of being named that week's star baker, but his leonine creation became a star on social media.
Not so sweet (series three)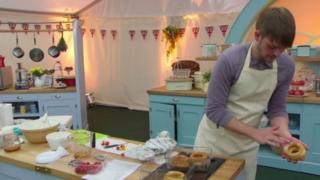 John Whaite went on to win the 2012 series, but things were not always so sweet for the baker.
In the first week, he came second-to-last in the technical bake after using salt instead of sugar to line the tin for his rum babas.
When presented to the judges, Mary said the cakes were "dead salty".
Black Forest gat-oh… (series six)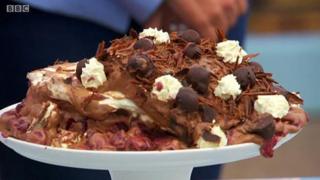 Dorret Conway had a nightmare in her maiden week as her Black Forest gateau was more mudslide than moreish.
The accountant from Preston took soggy bottoms to a whole new level as her classic 70s pudding collapsed when she took it out of the mould.
Despite Sue's valiant attempt to comfort her, Dorret was also reduced to mush. Bless.
Borrowed custard (series four)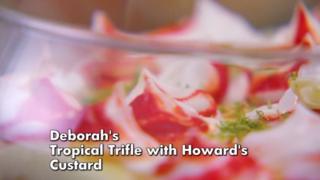 Deborah Manger caused a Bake Off scandal when she accidentally used Howard Middleton's custard for her trifle.
All credit to Deborah though, who came clean about her mistake and apologised.
And it didn't do Howard any harm in the popularity stakes – he won the hearts of the nation with his sportsmanship over the incident.
"I'm sure one custard's as good as another," he said gamely.
Sue joked it was "the most incredible case of baking espionage".
Toppling tower (series four)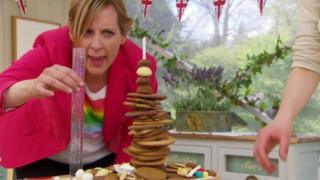 You can't blame Sue and fellow host Mel Giedroyc for wanting to give the contestants a helping hand in the Bake Off tent.
But Mel turned out to be more hindrance than help when she measured Frances Quinn's tower of biscuits. She took a ruler to the haberdashery-inspired edible stack, but it promptly toppled over.
Mel then tried to make amends by holding the biscuits in place with her hand.
The mishap can't have done Frances too much harm though – she went on to win her series.
Muffin mayhem (series four)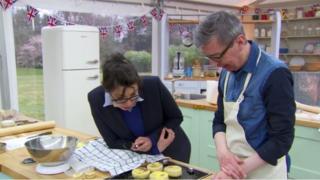 Poor Howard – he didn't have much luck, did he? If plundered custard wasn't enough, Sue also accidentally flattened Howard's muffins with her elbow in an another episode.
"Howard, I need to break something to you," she confessed. "I've flattened your muffins."
A lesson to us all – don't lean your elbows casually over a teatowel. Or else.
Mary's fondant glare (series five)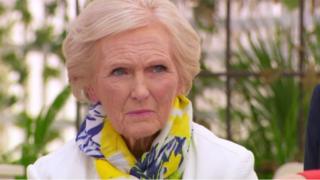 Everyone dreads the Mary Berry stare – and she brought it to a whole new level when Enwezor Nzegwu dared to admit he had used shop-bought (shop-bought!) fondant for his space adventure moon biscuit sculpture.
I don't think he will be making that mistake again in a hurry.
Nadiya and her facial expressions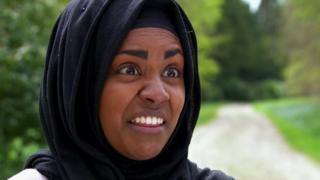 But Mary isn't always a tough taskmaster. Last year's winner Nadiya Hussain managed to reduce the judge to tears with her acceptance speech.
"I'm never gonna put boundaries on myself ever again. I'm never gonna say I can't do it. I'm never gonna say 'maybe'. I'm never gonna say, 'I don't think I can.' I can and I will."
Sniff!
And Nadiya's frowns, smiles and funny facial expressions had us captivated all series.
Val being Val (series seven)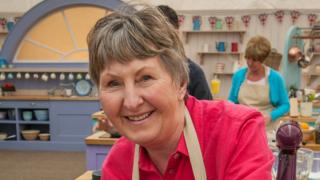 And that takes us to this series, and the delight that was Val Stones.
She amused fans with her oven-side aerobics, the way she listened to her bakes and her overall positivity and jolly manner.
But it was her departing speech that Val will surely be remembered for – when she left the tent for the final time she said she stirs and kneads love into everything she cooks, to make it "special".
---
Have you been inspired by Bake Off? Send us your photos of your best or worst bakes. Email haveyoursay@bbc.co.uk with your pictures.
Please include a contact number if you are willing to speak to a BBC journalist. You can also contact us in the following ways:
Read more: www.bbc.co.uk