BBC Music Day hears bridges 'come alive' – BBC News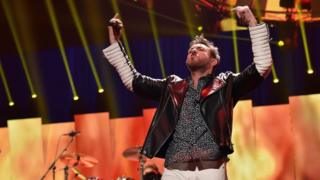 Live music is due to be performed on 40 bridges around the UK for the second annual BBC Music Day.
Choristers Merely Men Aloud launched events at 06:50, singing with Amy Wadge – who was on top of the Severn Bridge.
Jack Savoretti will perform on London's Tower Bridge, while Middlesbrough's Tees Transporter Bridge will come alive with music through the day.
Music Day culminates with a concert at Cornwall's Eden Project, starring Duran Duran, Nile Rodgers and Laura Mvula.
BBC Music Day: Live updates Media captionNile Rodgers: 'Music maintains us going' Media captionAmy Wadge performs a specially-written song on top of Severn Bridge Media captionPipers play on the Union Chain Bridge in Northumberland Media captionChildren's choirs sing for BBC Music Day Media captionWill Young performs Like A River for BBC Music Day Media captionJack Savoretti performs on Tower Bridge Image caption BBC Music Day is billed as a 'UK-wide celebration of sound'