Confessions of a killer policeman | Raghu Karnad and Grace Jajo
The Long Read: In a state bloodied by decades of armed rebellion, Thounaojam Herojit became one of Indias most deadly policemen killing more than a hundred people. This year, he became something rarer still: an executioner who wanted to tell the world about his crimes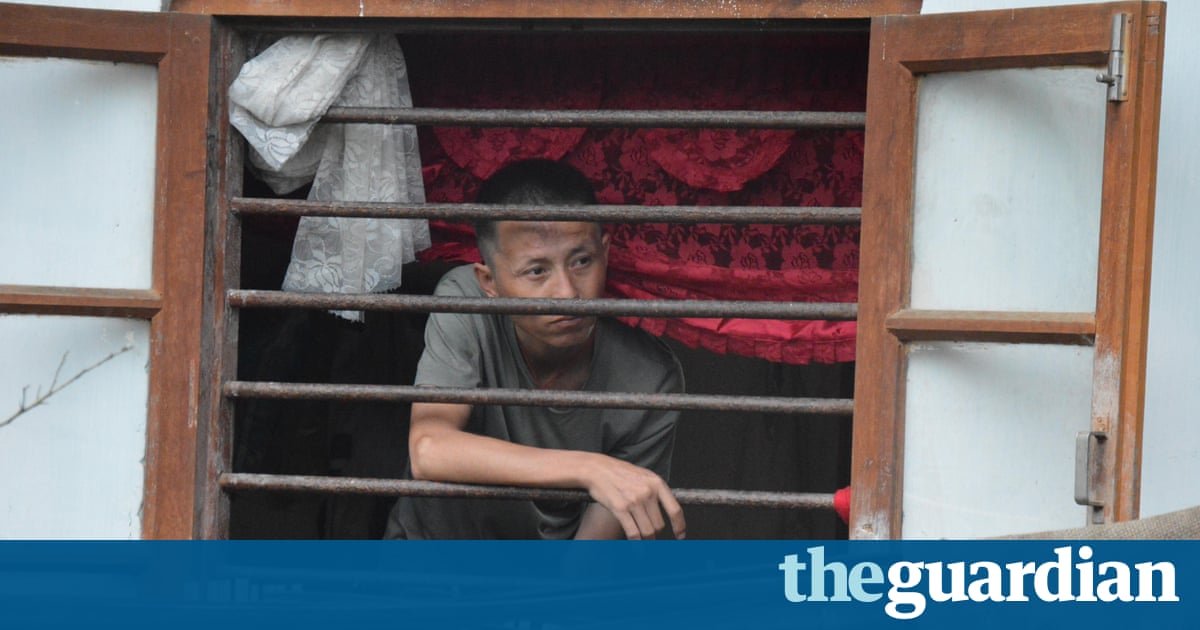 When he began to kill, Thounaojam Herojit never intended to tell his wife let alone the whole country. After an execution, he would go home and wait by the corrugated tin gate for her to bring him a towel and bucket. He bathed, right there in the lane, as their children did, to keep the pollution of death from entering their house. Each time, he would ask her to wash his uniform, even though his clothes looked clean. Eventually she caught on.
The worst days were ahead of Herojit these were merely the most dangerous. He was a young police constable in Manipur, a province in the north-east of India bloodied by decades of separatist insurgency and state reprisal. But he was also a commandopart of an elite unit raised to fight the insurgents and he was set to become their most effective executioner.
At first, he kept a tally of his kills in his head: 10, 11, 12 But his job, eliminating suspected militants, soon became routine. In Manipur, high in the welter of green hills that blur the border with Myanmar, nearly any young man could be a suspect, and there was no time to take them all to court.
It became a habit for Herojit to make his victims face him. He looked them in the eye when he pulled the trigger. Later he kept a diary, recording dates and names, and marking them: killed. Eventually there was a second notebook, then a third.
He never imagined that one day he might answer for his actions, or find himself feeling like one more victim of this war. At the time, Herojit recalled, he felt no qualms about casual executions. There was one day when his unit was tipped off about a rebel cadre hiding out in the hills outside the state capital, Imphal. Driving up in an armed convoy was not an option they would be spotted from above, and the men would disappear. Instead, Herojit and his team went in a truck, dressed in plain clothes, looking like a roadrepair gang.
As they left the long scab of orange brick that was Imphal, the view opened out on to paddy fields and glossy banana groves, and soon they were climbing into the ring of great hills that encircle the Imphal valley. At the top, they pulled over and idled. They had arranged for an armed convoy to follow at a distance. Once that conspicuously came into view, seven nervous young men appeared and came over to their truck, eager to hitch a ride and escape the police.
Herojit smiled at them. Which party are you?
U, they confessed, meaning the United National Liberation Front, one of the strongest among dozens of groups fighting the government.
Well, were PLA, Herojit replied, meaning the Peoples Liberation Army of Manipur fellow fighters, at least in that moment, when the common enemy was men in uniforms. Get in the truck, another cop said, theres a place up the road where we can ambush the police convoy. The men passed up their AK-47s and climbed in, grateful until they found themselves looking down the snout of Herojits pistol.
Once they were all inside, we told them, Were police, but be calm, we just want to talk, Herojit recalled.
The seven men stayed subdued, and the truck drove to a predetermined spot on the hillside where Herojit shot them dead.
Afterwards, as always, a recovery van carted the bodies to the morgue. The police issued a statement: the commandos had been attacked, and had fought back, killing seven insurgents in the armed encounter. That was the routine. It was always on orders, Herojit says, either direct instructions or the implicit, standing order that in this, the fourth decade of armed rebellion in Manipur, commandos were not to waste time making arrests.
This was just how it went, in provinces all along Indias borders, where armed separatist movements unleashed conflicts that have cost tens of thousands of lives. Kashmir which has erupted again this summer is the most well-known, but the earliest insurgencies in India persist in the far reaches of the north-east, in the small and mountainous states on the other side of Bangladesh, where the authority of the Indian state had always been suspect. Militant groups launched attacks on the army and government and the state fought back with indiscriminate reprisals, which at times meant declaring an open season on young local men.
For Herojit, it was only ever a matter of revenge. Convinced of his impunity, he became one of Indias most seasoned extra-judicial killers. Until this year, when he became something rarer still: a killer cop who wanted to confess.
---
In January of 2016, in a secret meeting with select journalists in Imphal, Herojit made two disclosures. First, he admitted that he was guilty of the execution of an unarmed young man in the middle of a busy market in 2009 his final and most notorious killing. His other confession was an off-the-record remark, which the journalists could not print, but it was far more shocking:the precise number of killings that he had personally carried out.The total was well over one hundred.
After these revelations, Herojit went silent. But in April, he agreed to meet, and speak for the first time, on the record, about his entire career as a police commando and how he decided that it was time to confess. Our initial meetings took place in a house in the south of Imphal, where Herojit was being sheltered by distant relatives, the only people who had heard his full story.
His movements were secretive.Though our meetings had been scheduled, we never knew how long we would have to wait before he appeared. Herojit was shy, small-built and gulag-thin. He seemed wrecked by years of stress, addiction, and exposure to danger and at the time that we met him, none of the three seemed likely to be relieved. Very few people alive have killed more than 100 men, face to face. Even fewer have made an attempt to talk about it to strangers. He was, our hostess told us, a saint who became a monster, and is trying again to become a saint.
We were seated on sofas. He sat on the floor, and looked at his phone as he started to speak.
Herojit was born in 1981, to a farming family in Lamdeng, on the outskirts of Imphal. His father owned paddy fields, with enough land left over for bamboo groves and a kitchen garden of herbs and cabbages. He also had a job, as a clerk at the public health department.
They were Meiteis Hindus, like most residents of the Imphal valley, in the centre of Manipur. The encircling hills are home to the Naga and Kuki tribes, converts to evangelical Christianity. Herojit is not a traditional Meitei name, but means what it sounds like: Hero, in English, with the suffix Jit, meaning victory.
It was among the hill tribes, in the 1960s, that armed rebellion against the Indian state began. Each decade it expanded, as a ball of cells does, by constantly splitting. Revenue, from kidnapping and extortion, came easy. With forested borders that enabled the smuggling of arms and narcotics, and neighbouring states that offered shelter, forming a splinter-group was not hard. The Kuki tribe alone now harbours 26 competing militant factions.
It was in the 1990s, when Herojit entered high school, that Meitei separatists began to take up arms against the Indian state. As the only man in Lamdeng with a government salary, Herojits father had a virtual target nailed to his door.
Dusk comes early in Manipur, and the naharol (the gunmen) always arrived at bedtime, in gangs of 20 or 30. The family huddled together while the rebels ransacked their house. They opened anything they could open, Herojit recalled. There was nothing to take. They only took my peace of mind. One night his grandfather appealed for respite, and a naharol kicked him in the face.
The naharol carried demand-notes, printed on official letterheads. Despite their rough delivery, the letters always reprised in high revolutionary style the purpose for which generous donations were requested. One note the family received from the United National Liberation Front in April 1997 explained:
The UNLF was established in November 24, 1964, with the firm conviction that Indian colonial rule had been strangling the genuine development of our peoples We have also begun striking at the occupation forces from time to time in order to awaken the masses to the real and ugly face of Indian colonialism and to propagate the revolutionary line that our national pride and independence can be regained through armed struggle only
The amount solicited: 20,000 rupees (226). Receipts were provided.
Herojits father started selling his land to pay off the militants demands. It was too much, Herojit said. Each time there was a demand, we went without food. But no one was allowed to speak, to confront them, to beg for reason.
One day, when he was 17, he had enough. We are six siblings, he shouted at the gunmen. We have so many mouths to feed. We want to help you, but at least look at what our earnings are! Do some justice to us.
The men turned, and Herojit went on: Also, just know I can join a rival group I can, and come do this to you.
They grew curious. Youre a brave boy, one of them said, Why dont you just join us? Then we wont take a cent from your family.
Herojit went with them as far as the front gate before his parents caught up, begging the men to let him go. He was too young, he didnt know what he was saying. They would find the money. The insurgents gave in. But first he needs to be taught a lesson.
They made him lie face-down on the ground. One of them brought over a bamboo rod, which the family used to bar the gate. Herojit does not remember how long they beat him, but afterwards the family sat around him and they all cried.
And after that, he told us, I was ready to kill.