Kalamazoo victims include a 'witty' high school senior, a teacher and a 'soulmate'
Family and friends share memories of six people who died when a suspect arbitrarily shoot people in three locations in Kalamazoo, Michigan Saturday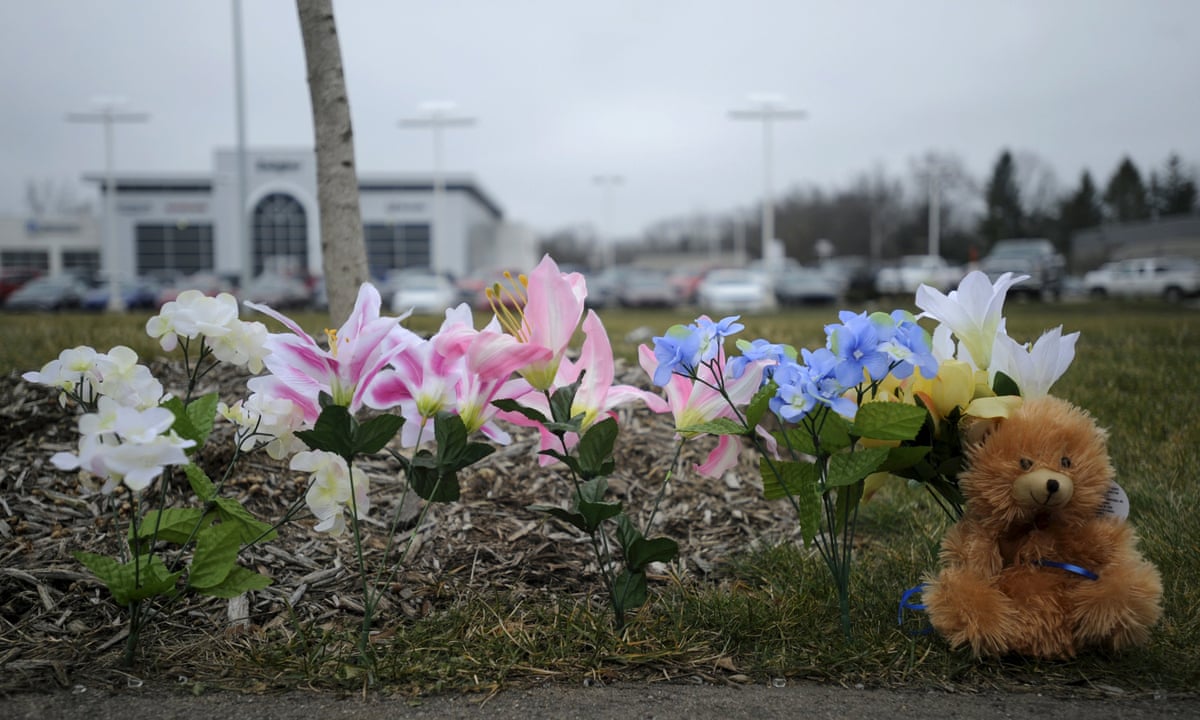 Over the course of seven hours on Saturday night, a human randomly shot people in three locations in Kalamazoo, Michigan. Six people died, including a retired high school teacher and a 17 -year-old student, police said. A women and a 14 -year-old girl, neither of whom have been named officially, were injured.
There isnt a connection that weve been able to establish between any of the three victim groups with one another, any of the three victim groups with the defendant, prosecutor Jeffery Getting said. It just is, well, it was random, unprovoked violence.
As the suspect in the case appeared in court on Monday, family and friends of the victims shared memories of those who were killed.
Tyler Smith
The 17 -year-old was with his father at a Kia car dealership when the gunman opened fire. Both were killed. Tyler Smith was in his senior year at Mattawan High School, where he was are participating in a marketing entrepreneurship program.
His mother, Laurie Smith, posted photos on Facebook of her son as a baby, playing on a child-sized motorcycle.
My precious baby boy, she wrote in the post. Taken away before he even graduated from high school I am so grateful to have been blessed with a sweet, caring, witty, handsome boy for nearly 18 years so proud of who he had become as a young man.
Robin Buchler, Mattawan school district superintendent, told local media: He was really a great kids and really well liked. Its just so traumatic, just heartbreaking.
Rich Smith
Laurie Smith has been writing extensively on Facebook about her husband and son. Rich, she wrote, was her soulmate. Posts included photos of the smiling 53 -year-old. His wife wrote: Paralyzed suffocating with sorrow I miss you so much, Rich, you were you were my best friend, my stone and Im lost without you.
Mary Lou Nye
Bart Nye told Mlive.com his mother had caught a depict with friends after dinner at a Cracker Barrel restaurant, to which they returned to get their cars before returning home to Battle Creek, Michigan.
Mary Lou Nye and three other women, including Nyes sister-in-law, Mary Jo, were fatally shot in their auto, in the restaurants parking lot. The two had been room-mates at Western Michigan University; through their friendship, Mary Lou satisfied her husband, Mary Jos older brother Christopher. They were married for more than 40 years.
Bart Nye said his mother, aged 62, worked at a daycare centre after managing a branch of the Michigan secretary of state. The Baroda, Michigan resident loved to read and take care of her grandson.
Mary Jo Nye
Though Mary Jo, 60, had retired from teaching english at Calhoun community high school, she always attended graduation ceremonies.
She was an English teacher, but she was a lot more than that to the students who dont come from great home lives, the schools assistant director, Tara Egnatuk, told the Associated Press. She truly had a position of mentorship, kind of a motherly figure for a lot of these kids.
The Battle Creek resident enjoyed sewing and quilting.
Dorothy Brown
Patrick Mallon Jr, Browns neighbor of 10 years, told the AP everyone knew Brown as Judy. The 74 -year-old was known for sharing herbs she had grown in her garden with her neighbors in Battle Creek. She had two sons who live out of state.
She loved animals and she loved elderly people, a friend, Marilynn Miles, told the Battle Creek Enquirer.
Miles said Brown had retired from Guardian Finance and Advocacy Series a year ago.
She truly enjoyed that the project works, Miles said. And all of us were encouraging her to retire and enjoy her life. And she just felt so connected to those people and often did things for them out of her own pocket and on her own time.
Barbara Hawthorne
Hawthorne, 68, was also in Mary Lou Nyes auto.
In 2008 she retired from the foods giant Kellogg, where she had worked for 22 years. Kellogg CEO and chairperson John Bryant said in a statement: We are deeply saddened by these tragic events and brokenhearted to learn that one of the victims, Barbara Hawthorne, belonged to our Kellogg family.
Read more: www.theguardian.com