Knee-deep dining: Oyster safari off the coast of Denmark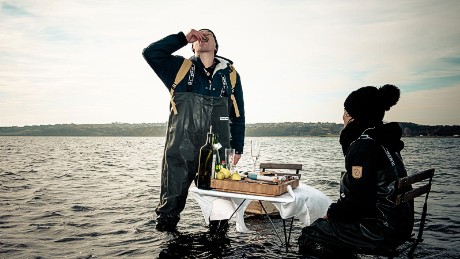 (CNN)Wearing army green waders and carrying an underwater viewer that looks like an orange traffic cone, we are three feet deep in the cold waters of Limfjorden, hunting for oyster gold.
The transparent bottom of the viewer reveals a seabed generously scattered with the fabled European flat oysters, which we scoop up with steel nets.
We're on an oyster safari and have struck a rich vein.
A couple of bemused onlookers watch from the shore as we set up folding chairs and a table in the water, shuck the oysters and line up garnishes; ponzu sauce, sherry vinegar and shallots, dill oil and freshly grated horseradish.
The oysters are spectacular on their own: nutty, meaty, metallic and with a taste of iodine that tickles the inside of your cheeks.
Oysters from Limfjorden — a shallow sound in the northern part of Denmark's Jutland peninsula — are rare treats and rated among the best in the world.
These waters are home to the largest remaining wild population of European flat oysters — ostrea edulis — also known as Colchester natives, Whitstable oysters or Belons.
Unlike the craggy teardrop-shaped Pacific oysters, the European natives are rounder, flatter and have a golden hue on the inside.
Their price is equally impressive; one Limfjord oyster can cost as much as 60 Danish kroner ($8.85) in a Copenhagen restaurant.
Brain food
Since the early '90s, the invasive Pacific oyster has thrived in the Wadden Sea national park, a UNESCO heritage site on Denmark's southwestern coast.
There are various theories behind this biological invasion.
One is that the oysters are remnants from farming experiments or that they stem from larvae in the ballast water of ships.
But the fact is that there are now millions of oysters nestled in the intertidal mud flats of the Wadden Sea, posing an ecological challenge to the native biodiversity, and offering a tasty reward for adventurous food enthusiasts.
With the tidal water receded, we set off from the east coast of Fanoe island and walk about a mile though the beautifully rippled seabed until we reach the oyster banks.
Our guide, Jesper Voss, is the self-anointed Fanoe Oyster King, sporting a Viking-style brown leather apron with metal fixings and a holster for his knives and Tabasco bottle.
He pitches up on the exposed concrete base of a pylon, amid the misty silhouette of cranes, chimneys and Esbjerg harbour on the other side of the water, and serves up a unique recipe: oysters with slices of strawberry, fresh lime juice and a grind of black pepper.
Hardly seasonal or local, yet strangely seductive.
Back on shore, we stay at Sonderho Kro, an almost 300-year-old inn in Fanoe's picturesque village of Sonderho, which is all thatched houses and bucolic charm.
Salty lamb and shellfish
With the inn located a few meters from green dikes and marshland on the island's south coast, the generous ecosystem of the Wadden Sea has gifted head chef Jakob Sullestad an exciting larder of rabbits, beach herbs, oysters and lamb.
"It wasn't until I moved here that I started using wild herbs and all these things," says Sullestad.
Among his different takes on oyster — topped with dried beetroot and apple compote, or crispy parsnip and turbot skin — the outstanding dish is lamb tartare, made with trimmed leg meat of salty marshland lamb, chopped oyster for seasoning and zingy horseradish.
"To me," says Sullested, "oysters and lamb just sum up all that is great about this area."
For now, the wild oysters caught on safaris in the Wadden Sea and in the bays of Limfjorden are only for private consumption.
Food authority regulations make it a cumbersome process to attain permits for distribution or sale, but the oyster safaris have sparked enthusiasm for a prized possession that is often the prerogative of fine-dining restaurants.
After all, standing in your waders picking oysters from the seabed and shucking them on the spot is the finest destination in which to consume this famous treat.
How to join the oyster hunts
JyllandsAkvariet
(Jutland Aquarium) organizes oyster safaris on Gjellerodde beach near the town of Lemvig in Limfjorden from mid-October to April.
The safaris last three hours and the 300 Danish kroner ($44) price includes an oyster knife, a bucket for collecting and rental of waders.
Jesper Voss
–The Fanoe Oyster King — arranges oyster safaris in the Wadden Sea, off the east coast of Fanoe, for small or larger groups. The price is 150 kroner per person for a three-hour excursion. Contact Fanoe Sport Event on mail@fanosportevent.dk; +45 25 737 333.
Read more: www.cnn.com