Sao Paulo Biennial- artists react to Brazil's political commotion
Some artists return to the land and one suggests interspecies communication could be a solution as exhibition carries tension and uncertainty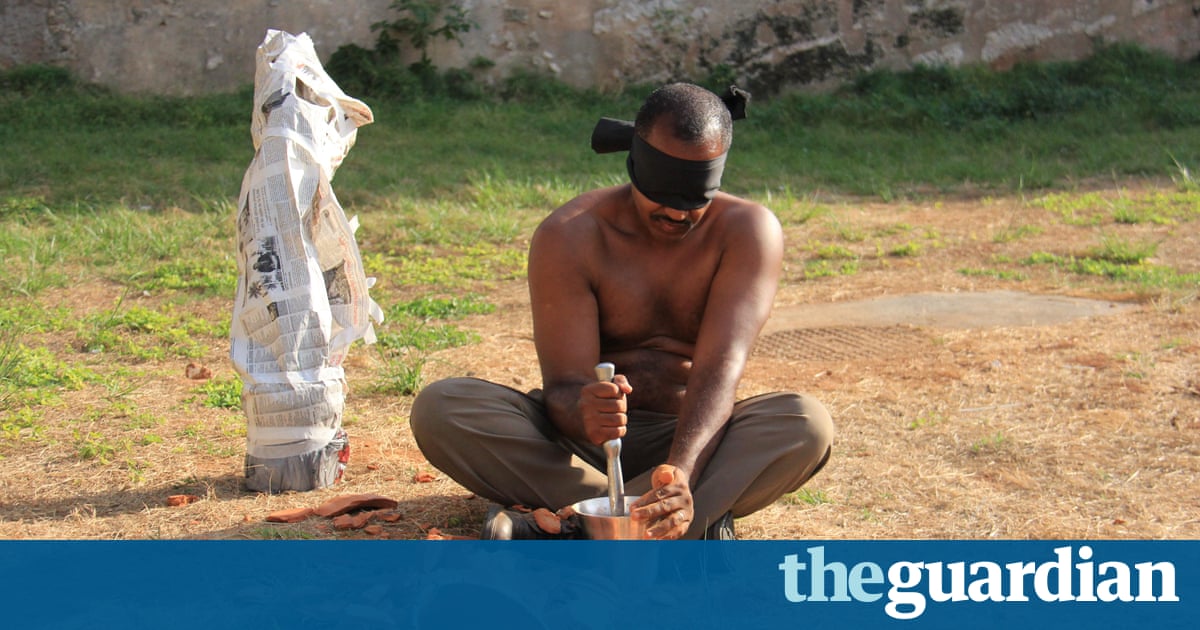 Wearing black at an exhibit opening usually goes unnoticed but here in Brazil, the black-clad artists at Latin Americas most important contemporary art exhibition knew how to make a stir. On the preview days of the So Paulo Biennial, more than a dozen artists milled through the galleries in custom black T-shirts, whose blunt slogans brought the countrys filthy politics into Oscar Niemeyers airy white pavilion. EU QUERO VOTAR PARA PRESIDENTE, read one: I want to vote for chairperson. Another said DIRETAS J, Elections now, a reboot of a chant from the last days of the tyranny. The most popular was the frankest: FORA TEMER, a call for Brazils newly installed president to jump into Braslias manmade lake.
The 32 nd Bienal de So Paulo, which opened to the public this weekend in this glorious mess of a megacity, is the oldest such art exhibition in the world after the Venice Biennale. Its a stop, tentative, exploratory reveal and its hesitancy may be a natural response to the wild gyrations of this country, upended by a one-two-three punch of political, economic, and medical crises. Days before the exhibition opened, the twice-elected president, Dilma Rousseff, was bounced out of office by a political class far more corrupted than she. The continuing mega-scandal uncovered by Operao Lava Jato( Operation Car Wash) the largest grafting probe in Brazilian history, which has disclosed dumbfounding corruption across the countrys political and business upper-class has been pushed off the front pages by Rousseffs ouster, and the new Temer government is accused of attempting to smother Lava Jato for good. Whether or not you agree with the artists here who speak of Rousseffs impeachment as a takeover, the replacing of Brazils first female chairperson with a despised legislator of another party has dealt a grievous blow to this still young democracy, and given a new casting to the biennials title, Incerteza Viva( Live Uncertainty ).
The show features a substantial number of African artists, including the young Zimbabwean painter Misheck Masamvu, whose splotchy, color-soaked abstractions display a roiling nervousnes. Afro-Brazilian artists are well represented too. Dalton Paula, one of Brazils most promising young painters, has festooned dozens of ceramic boats with imagery drawn from Latin Americas colonial history: missionary classrooms, galas, funerals, all depicted in a naive style that offsets black skin with white clothing.
Paulas unadorned, unpretentious ceramics are among this indicates many humble gestures. Pearls you can find at the after-parties; prepare here for acres of clay. The Australian artist Susan Jacobs interrupts a pile of raked earth with a spill of molten gallium. Dineo Seshee Bopape, from South Africa, displays tightly packed cubes of clay decorated with hieratic symbols and embedded with herbs and clay. More packed ground courtesy of Erika Verzutti, one of Brazils best sculptors, whose wall-mounted blocks of brown are scored with slicings, divots and pockmarks. Lais Myrrha, also from Brazil, has erected a three-story tower of clay, timber and straw next to another of metal and concrete: an occupation of Niemeyers high-modern pavilion with cheaper, rougher architecture.
Myrrhas giant twin towers are only the largest of many projects here to look at indigenous Latin America and at alternatives to the big bad city. Sometimes its done sympathetically, as in the ethnographic movies of Vdeo nas Aldeias, a collective from Pernambuco that encourages indigenous Brazilians to document "peoples lives". Too often, though, the prove dips into heal-the-world pieties, back-to-nature hippiedom and spiritualist bunkum. The young Scottish artist Ruth Ewan has met hundreds of plants, boulders, bones, and tools associated with the French Republican calendar, pitched here as a criticism of modern timekeeping. Jorge Menna Barreto has occupied the pavilions restaurant and make it vegan-only; I tried to order a coffee with milk and was duly humiliated. Eduardo Navarro of Argentina has penetrated a window of Niemeyers pavilion with a giant ear trumpet, so you can have discussions with the palm tree outside. I didnt hear anything, but perhaps I am dead to interspecies communication.
Nearly half a floor of the biennial is working to such paranormal visions as Gilvan Samicos occult engravings of superstars, snakes, and mermaids carrying the sunshine; the intricately abstract energy diagrams of Kathy Barry, from New Zealand; or else a yoga-inspired video of nebulating clouds of blue and pink from the San Francisco visionary Jordan Belson. Those of us who are stuck on the international biennial treadmill will note that this crystals-and-mediums stuff has been going around for a while. Both the 2013 Venice Biennale and the 2015 Istanbul Biennial pulled the same trick, hiring the last centurys world spirituality as a balm for this ones miseries.( The interspecies schmoozing has trended lately too: if you missed the episode in 2012 that assured curators musing over voting rights for strawberries, consider yourself lucky .) At this very fraught So Paulo biennial, though, the New Age sympathy has a local casting. If the utopian designs of an earlier age of Brazilians has soured and, indeed, Niemeyers own presidential palace in Braslia is now occupied by a corrupt usurper then maybe a different, less European kind of utopia deserves a look.
Read more: www.theguardian.com