The bomb shelter farm hidden deep under London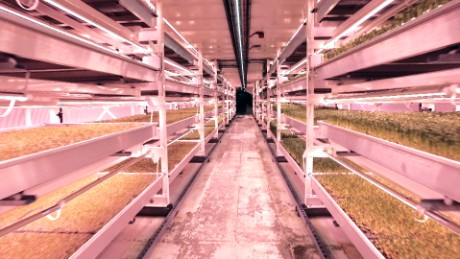 London, England (CNN)The subterranean world beneath London has many secrets — hidden railways, ghostly abandoned stations, government war rooms.
And now there's a farm.
There are no cows or sheep at the Growing Underground farm deep below the streets of the British capital's Clapham neighborhood.
Built in an abandoned World War II air raid shelter, the unusual facility instead produces "micro greens"– herbs and salad veggies destined for the city's restaurants.
That'll mean that the subterranean harvest could soon hit superstores, allowing ordinary Londoners to buy food grown beneath their feet.
"Before the tunnels were used, they had bunk beds here, which were three or four high, they were used in a time of destruction when above ground London was being destroyed by bombs," says Ballard.
"And now we're using a similar system of three or four beds to feed London."
The Growing Underground facility is also helping inspire other unusual ventures as farmers look for innovative solutions to produce food in places where land is in short supply.
"We've been approached by landowners and people who own unique or similar spaces around the world," Ballard adds.
"There are plenty more locations and geographies that we can grow into in the future."
Read more: www.cnn.com