The weekend cook: Thomasina Miers' light, post-festivity recipes
After the Christmas blowout, its time to turn to lighter cooking: chicken poached in a fragrant Asian broth, and udon noodles with sesame greens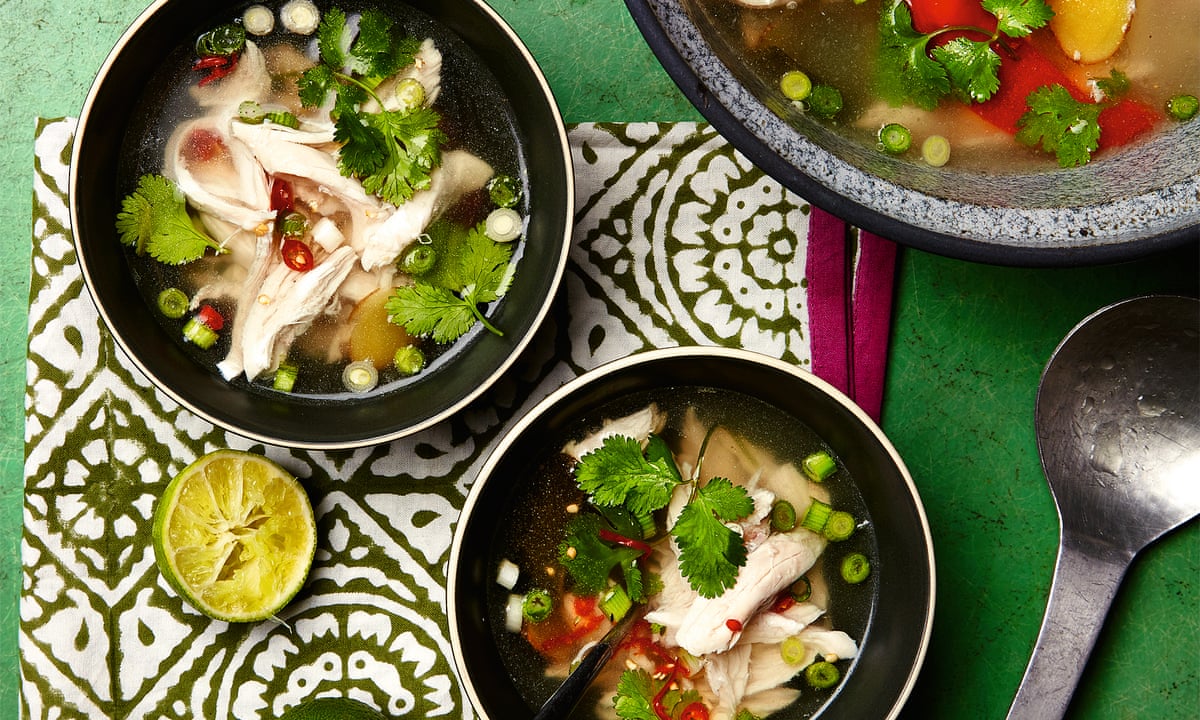 Although I love Christmas, I invariably settle back into the daily routine with a sense of relief. Being greedy is fun up to a point, but the feeling of being stuffed soon overwhelms. Perish the thought of starting a diet now (or indeed ever), especially when its so foul outside. For me this time of year is all about wholesome eating: fresh herbs, fiery chillies, fragrant spices, light broths and plenty of greens.
Chicken poached in fragrant broth
Great food for miserable weather. This is an all-out super-clear stock, brimming with flavour from the herbs and spices, but if you prefer a broth with extra body, brown the chicken pieces in butter before poaching them. Serves six.
4 spring onions, cut into green and white parts
1 large thumb-sized knob ginger, sliced
½ whole garlic head, cut in half widthways
4 lime leaves (fresh, if possible)
1 stick lemongrass, bashed
2 star anise
1 cinnamon stick
10 coriander seeds, pinched between your fingers to release their aroma
2 red chillies, one cut in half, the other very finely sliced (I use punchy birdseye for the chilli garnish, but for a mellower heat, go for a larger, milder red chilli)
1 large bunch coriander, leaves picked and roughly chopped, stalks reserved
Freshly ground black pepper
1 free-range chicken, jointed into 2 breasts, 2 wings and 2 legs, or 8 chicken thighs (keep the carcass to make another stock, or add it to the broth pot for extra flavour)
80g brown basmati rice, soaked in cold water for 30 minutes
3 tbsp fish sauce
Juice of 2 limes
Pour four litres of water into a large stock pot of at least five-litre capacity, and add the green halves of the spring onions, the ginger, garlic, lime leaves, lemongrass, spices, the two chilli halves, and the coriander roots and stalks. Season with plenty of black pepper, then add the chicken pieces and bring the lot gently to a boil, using a slotted spoon to skim off any gunky foam that rises to the surface. Once the broth is boiling, turn it down to a very gentle simmer and leave it to bubble away for half an hour.
Add the drained rice to the broth, and cook for 15-20 minutes, until the chicken is very soft and the broth is fragrant and clear. Using a slotted spoon, transfer the chicken to a bowl the meat will be falling off the bone, so check the broth for any bones that may have fallen out; leave the broth pot on a low heat. Once cool enough to handle, shred the chicken meat off the bones and return to the broth.
Finely slice the white part of the spring onions and add to the broth pot with the sliced chilli, then season with fish sauce and lime juice. Ladle the chicken and some of the rice into bowls, with as much or as little of the broth as you like, scatter on plenty of chopped fresh coriander and serve.
Warm udon noodles with black sesame and spring greens
There is something irresistibly satisfying about biting into firm noodles. These are tossed in a rich sauce of soy and sesame that provides a wonderful contrast to the mineral flavour of the greens. The noodles work well with flaked smoked mackerel or roast pork belly, too. Serves six to eight.
1 tbsp sunflower oil
1 clove garlic, peeled and sliced
1 knob fresh ginger, peeled and grated
2 heads spring greens (about 300g), washed, stems removed and leaves finely shredded
1 tbsp dark soy sauce
1 tsp rice-wine vinegar
3 tsp sesame oil
1 tbsp black sesame seeds, toasted (white are fine, too)
200ml chicken stock (or some of the broth from the previous recipe, if youre making both in the same week)
3 200g packs thick Japanese-style udon noodles
A few pinches dried chilli flakes (optional)
Heat the oil in a large wok over a medium-high heat, stir-fry the garlic and ginger for a minute or two, until fragrant, then add the greens. Toss with tongs until coated in the oil and beginning to wilt, then add the soy, vinegar and two teaspoons of the sesame oil. Stir-fry until the greens soften, add the sesame seeds, toss again and keep warm.
In another pan, heat the rest of sesame oil with the chicken stock. Cook the udon in the hot stock for two to three minutes, until tender, then lift out of the broth with tongs and toss through the greens.
Transfer to bowls, and dust each portion with chilli flakes, if using. Serve with extra soy at the table, either alongside the pot of hot broth or spooned into it.
And for the rest of the week
Lemongrass is rarely sold in individual stalks, so the likelihood is that you will have some left over. It keeps brilliantly in the freezer: peel away and discard the outer layer and cut off the stem, and finely chop by hand or in a food processor. Store in a labelled pot in the freezer, for whenever youre next cooking south-east Asian food. I love chopped lemongrass fried with lime leaves, shallots and garlic, then blitzed with fresh crabmeat: roll this into little balls and pan-fry for a delicious accompaniment to all kinds of noodles (this weeks included). Finely slice excess ginger and pour boiling water over it for a deliciously refreshing ginger tea I drink buckets of the stuff over winter, to ward off colds and boost my circulation. Try the noodles cold, too they make a great packed lunch. I love them doused in masses of chilli oil and sesame oil, then tossed with chunks of cooked chicken or mackerel, and finely sliced celery and spring onion: hot, slithery, mouth-numbing and intensely savoury.
Thomasina Miers is co-owner of the Wahaca group of Mexican restaurants.
Read more: www.theguardian.com