Yotam Ottolenghi's dumpling recipes
Few foods are as comforting as a proper dumpling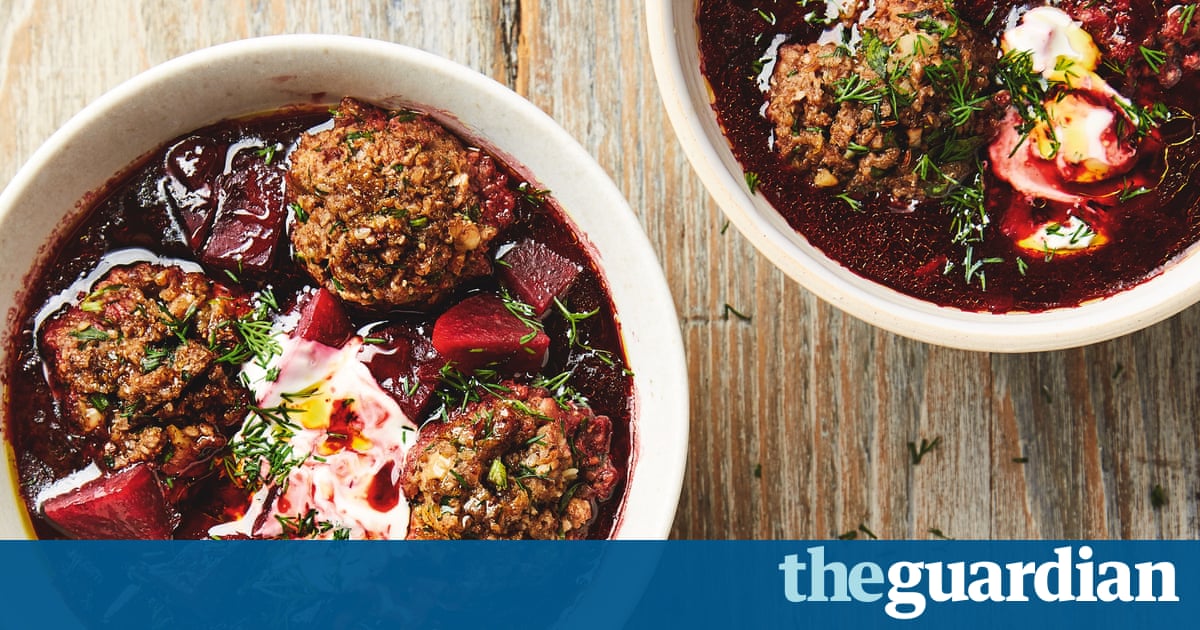 The brilliant Marina OLoughlin, in a recent its consideration of a dumpling eatery, wrote that, As the world inches closer to chaos, we concentrate hard on what we put into our faces. In such times, its consolation and safety we try, and dumplings( or bite-sized bundles of deliciousness, as Marina calls them) fit the bill perfectly.
But what, exactly, makes a dumpling a dumpling? Here, I must reluctantly proportion routes with Marina. Bundles of deliciousness, yes; bite-sized , not necessarily, and not least because my dumplings this week are rather large. They are bulbous and rustic-looking, cooked in a soup or stew, and the opposite of the refined steamed dim sum I eat most Sundays in Chinatown.
For me, the answer doesnt lie in size or flavour, then, but in texture. What all dumplings( be they Asian wontons or German kndel, Tibetan momos or Tuscan gnudi) share is a certain light, springy texture: theyre bouncy, ethereal, dreamy. Dumplings get their delicate texture from being cooked in water or steam, which keeps them at a rather low temperature( surely never over 100 C) and surrounded by moisture. By the time theyre cooked, the dumplings will have absorbed liquid and plumped up without wholly firming up or developing a crust in the way fried or roast foods do. They also have the right degree of resistance in the mouth to guaranty perfect consolation, which is just what we need at the moment.
Beetroot soup with rye and walnut dumplings
Beef stock dedicates this borscht a rich, deep flavour, but vegetable stock working for you, too. Serves four.
2 tbsp olive oil, plus extra to serve
2 garlic cloves, peeled and crushed
1 onion, peeled and finely diced
1 tsp fennel seeds
Salt and freshly ground black pepper
1 litre beef( or veggie) stock
600 g raw beetroot, peeled and cut into 2cm pieces
1 tsp lemon juice
160 g soured cream, to serve
5g dill foliages, finely chopped
For the dumplings
3 slice German rye bread( 100% rye ), softly toasted and roughly blitzed
Finely grated zest of 1 lemon
10 g dill, finely chopped
10 g tarragon leaves, finely chopped
40 g walnut halves, toasted and roughly chopped
1 tsp caraway seeds, softly toasted and crushed
2 eggs, beaten
Put all the dumpling ingredients in a medium bowl with a good grind of pepper. Mix to combine, then form into 12 dumplings weighing about 30 g each, squeezing the mixture very firmly as you shape them; its really important to compress the dumplings like this, or they wont hold together during the cooking. Refrigerate for at least an hour, to firm up.
Put the petroleum for the soup in a large saucepan on a medium-high heat, then saute the garlic, onion, fennel seeds and half a teaspoon of salt for about five minutes, until soft. Cover with 750 ml of stock, then add the beetroot, lemon juice and a grind of pepper. Turn the heat to medium-low and simmer gently for 50 minutes, until the beetroot is very soft.
When the soup has been cooking for 25 minutes, set the remaining stock in a medium saucepan with 250 ml water and half a teaspoon of salt. Bring to a simmer, then turn the heat to low. Take the dumplings from the refrigerator and compress them again. Poach the dumplings in the liquid in two batches for three minutes a batch, turning them halfway, then transfer the cooked dumplings to a plate utilizing a slotted spoonful. Strain the stock and water into the soup pot and leave to cook until the 50 minutes is up.
Divide the soup between four bowls and top each section with three dumplings. Spoon the soured cream alongside, drizzle with a little olive oil, sprinkle with dill and serve.
Chickpea dumplings with tomato and chard
This hearty dish simply happens to be gluten- and dairy-free. Serve it with couscous( or quinoa, to stick to the gluten-free topic ), to mop up some of that broth. If you want to construct the dumpling mix in advance, add the salt just before they are shaped; otherwise, the salt will draw out moisture from the potato and construct the dumplings too wet. Serves four.
90 ml olive oil
2 onions, peeled and finely chopped
250 g swiss chard, foliages and stalks divided: foliages shredded into 0.5 cm-thick slice, stalks finely chopped
2 large garlic cloves, peeled and crushed
2 tsp ground cumin
tsp chilli flakes
2 tsp tomato paste
1 small preserved lemons, seeds removed, flesh and skin finely chopped
3 plum tomatoes, cut into rough 1cm-sized pieces
500 ml vegetable stock
Salt and black pepper
20 g mint foliages, finely chopped
25 g coriander leaves, finely chopped
1 large potato, peeled and roughly grated
100 g chickpea( aka gram) flour
tsp ground turmeric
1 lemon, cut into 4 wedges, to serve
In a large saute pan for which you have a lid, heat two tablespoons of olive oil on a medium-high flame. Fry half the onion and all the chopped chard stalks for seven to eight minutes, stirring often, until soft and golden brown. Add the garlic and fry for another minute or two, until it starts to brown, then stir in half a teaspoon of the cumin, the chilli, tomato paste, preserved lemon, plum tomatoes, half the stock and a half-teaspoon of salt.
Transfer the mixture to a food processor, blitz smooth, then tip-off back into the pan. Add the rest of the stock and bring slowly to a simmer on a medium-high heat. Stir in the shredded chard leaves, turn the heat to low, encompass the pan and leave to simmer gently for five minutes.
While the stew is simmering, construct the dumplings. In a medium bowl, mix the remaining onion and teaspoon and a half of cumin with the herbs, potato, chickpea flour, turmeric, three-quarters of a teaspoon of salt and plenty of pepper. The mixture needs to hold together when squeezed into a ball, so you may need to add a tablespoon of water to help it along. Form into 12 -1 4 golf ball-sized dumplings, squeezing them together so they hold their shape, then lower into the stew without stirring. Cover and simmer for 40 minutes, carefully turning the dumplings halfway through, until the sauce has thickened.
Take the pan off the heat, and leave to rest for five minutes, still encompassed. Serve the dumplings with the sauce and a wedge of lemon.
Lamb and date stew with suet dumplings