Yotam Ottolenghi's recipes for Easter lamb
Traditional roast lamb has its place, but try something new this Easter by looking to China , north Africa and Thailand for inspiration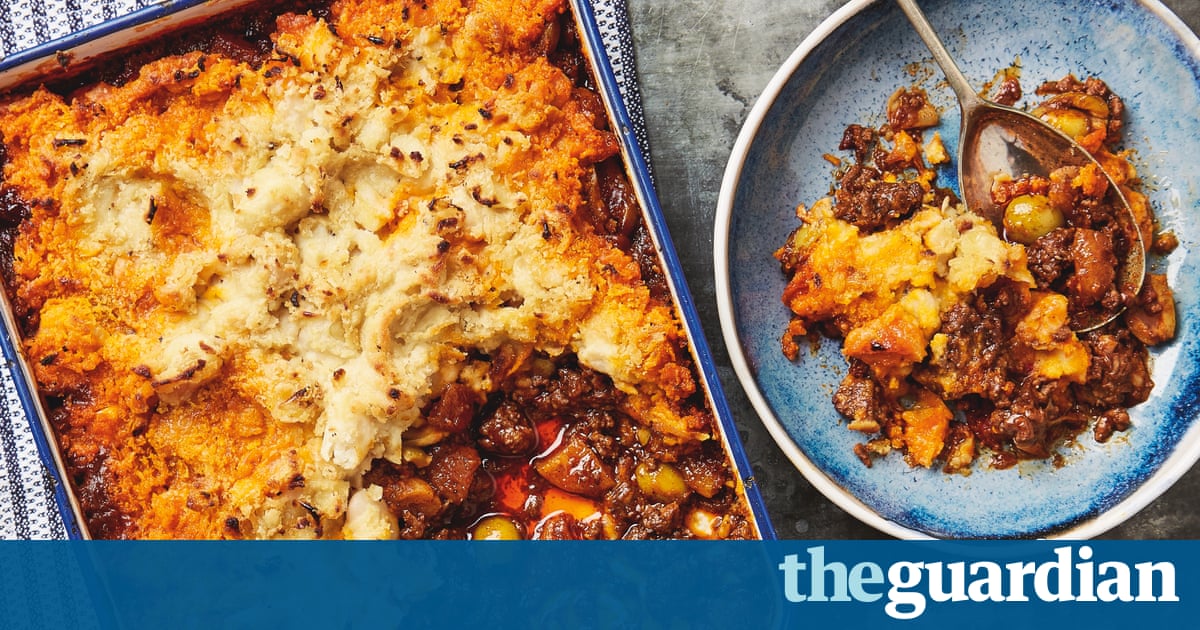 Lamb, for all its associations with anchovy, rosemary, garlic and the Easter weekend, is a wonderfully non-denominational meat. As much as I thought I was going to stick with tradition this week, Im tickled as pink as a just-cooked fillet with how global( and, therefore, pan-religious) my recipes for lamb are. Theres a salad that takes inspiration from Thai beef salad, with the meat rare and cut thin and the salad fresh and fragrant; a shepherds tart with a north African twisting from the addition of harissa, olives and dried apricots; and a lamb braise that uses all sorts of Chinese cooking staples.
The food we eat at Easter is, of course, symbolic and meaningful. Theres a reason and a narrative behind the traditions of our tables this weekend: the 11 balls of marzipan on top of simnel cake, say, the mark on top of a hot cross bun and the sacrifice of the lamb. But we also all have our own traditions and stories that we create with family and friends. These are the traditions we return to simply because its lovely to get together to celebrate over the long weekend, and lamb is a particularly lovely thing to do that with.
Spiced lamb shepherds tart with butterbean crust
A north African take on the classic dish, with a butterbean tahini mash topping instead of a potato one. You can assemble the tart up to two days ahead, and refrigerate, in which case add five to 10 minutes to the baking hour, to allow for it being cooked from cold. Serves four generously.
90 ml olive oil
3 garlic cloves, peeled and crushed
3 banana shallots, peeled and thinly sliced
600 g minced lamb
2 tsp cumin seeds
3 tsp ground allspice
Finely grated zest of 2 lemons
Salt and freshly ground black pepper
3 tbsp tomato paste
3 tbsp rose( or regular) harissa
100 g dried apricots, quartered
280 ml chicken stock
220 ml white wine
80 g pitted green olives, cut in half lengthways
670 g cooked butterbeans( ie, 3 tins worth, drained; alternatively, soak 400 g uncooked beans in water overnight with a teaspoon of bicarbonate of soda, drainage and simmer until cooked)
3 tbsp tahini paste
In a large, heavy-based pan for which you have a lid, hot three tablespoons of oil on a medium-high hot, then saute the garlic and shallots for about five minutes, stirring often, until soft and golden. Turn up the heat to high, then add the lamb, cumin, allspice, half the lemon zest and half a teaspoon of salt. Fry for five minutes or so, stirring every now and then, until browned all over, then add the tomato paste, harissa and half the apricots. Fry for two minutes more, then add the stock and wine, turn away the heat to medium, covering and leave to simmer for 30 minutes.
Once cooked, set aside the meat to cool, then stir in the olives and remaining apricots, and spoon the stew into a 20 cm x 25 cm high-sided ovenproof dish and refrigerate for at the least half an hour. This will firm it up, inducing it easier to spread the mash on top.
Heat the oven to 180 C/ 350 F/ gas mark 4. Combine the butterbeans in a large bowl with the remaining lemon zest, two tablespoons of olive oil, the tahini paste, three-quarters of a teaspoon of salt and a generous grind of black pepper, then mash with a potato masher the beans dont need to be totally smooth, only spreadable.
Spread the butterbean mixture evenly over the top of the lamb, then construct shallow dips here and there in the surface of the mash with the back of a tablespoon. Drizzle over the remaining tablespoon of oil and cook for 30 minutes, until nicely coloured and bubbling. Leave to remainder for 10 minutes, then serve.
Easy braised lamb
As the name indicates, this is a cinch of a one-pot dish. Fairly much all the work is done in the oven, but it does require a bit of organisation to marinate the meat in advance. The exhilaration of doing all the prep a day ahead is that, when it comes to serving, this feels like an instant supper. The fresh coconut adds a gorgeous texture, but the dish is still wonderful without. Serves six.
1 tbsp cumin seeds
tsp Szechuan peppercorns
tsp ground ginger
1kg diced lamb shoulder
3cm piece fresh ginger, peeled and finely grated
1 tbsp chilli snowflakes
2 tbsp rice vinegar
2 tbsp soy sauce
20 g dark brown soft sugar
2 tbsp olive oil
2 aubergines, cut into 3cm chunks
15 spring onions, trimmed and cut into 4cm lengths
2 red pepper, core and seeds removed, then cut into 6 wedges each
Salt
100 g coconut milk
50 g fresh coconut( ie, the flesh of small coconut ), coarsely grated, optional
10 g coriander foliages, whole or approximately chopped
1 lime, cut into 6 wedges
Put the cumin, peppercorns and ground ginger in a spice grinder, then blitz fine. Put the lamb in a large bowl, add the spice mixture, fresh ginger and chilli flakes, then rub all over to coat, cover the bowl and marinade in the fridge for at least two hours, and ideally overnight.
Heat the oven to 160 C/ 320 F/ gas mark 2. Add the vinegar, soy sauce, sugar, a tablespoon of olive oil and half a teaspoon of salt to the lamb bowl, toss to blend, then tip the plenty into the base of a large, 30 cm x 35 cm roasting tin.
In a bowl, blend the aubergines, spring onions, peppers, remaining tablespoon of olive oil and a quarter-teaspoon of salt, then spread the veggies on top of and around the lamb. Cover tightly with aluminium foil, then bake for two hours, stirring once; add a little water if the braise starts to look a bit dry. After the two hours are up, remove the foil, bake for a further 30 minutes, then stir in the coconut milk.
Divide the stew between six plates or bowls, and sprinkle over the fresh coconut, if use, and coriander. Serve with steamed rice and a wedge of lime.
Grilled lamb salad with pomegranate and buckwheat