The FBI's Ten Most Wanted List Was J. Edgar Hoover Being A Publicity Hound
Among felons, showing up on the FBI's "Ten Most Wanted" list must be like getting inducted into the Hall of Fame. The world's fiercest crimefighters are sticking your face on a poster, declaring you to be the baddest of the bad! Which is … various kinds of weird, right? The fact that the FBI would take an arbitrary group of their most infamous fugitives and attain them celebrities?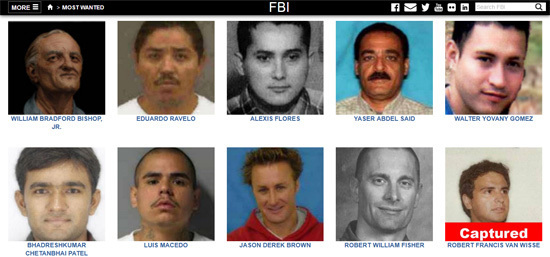 FBI
"Gotta catch 'em all! "
The Most Wanted list debuted in newspapers on March 14, 1950 before rapidly spreading to radio and TV. Since its inception, it has directly led to 160 apprehends and, most importantly, immeasurably stoked the ego of one J. Edgar Hoover. That was, after all, the original phase of the listing. It was all a brazen headline grab.
Nebraska Senator George Norris once called Hoover "the greatest hound for advertising on the American continent." The FBI director's obsession with reputation began in 1933, with the Kansas City massacre and the public's odd love affair with chief suspect Charles "Pretty Boy" Floyd. Hoover became furious over the attention being garnered by the crime( not to mention Floyd's prettiness ), famously seething, "If there is going to be publicity, let it be on the side of law and order."
Marion S. Trikosko/ U.S. News& World Report
"From now one, the only fairly boys are the ones working for the FBI."