Fresh thinking: Trine Hahnemann's Danish cuisine recipes
While still based in tradition, Danish cuisine has espoused new flavours, foreign ingredients and a lighter touch, tells Trine Hahnemann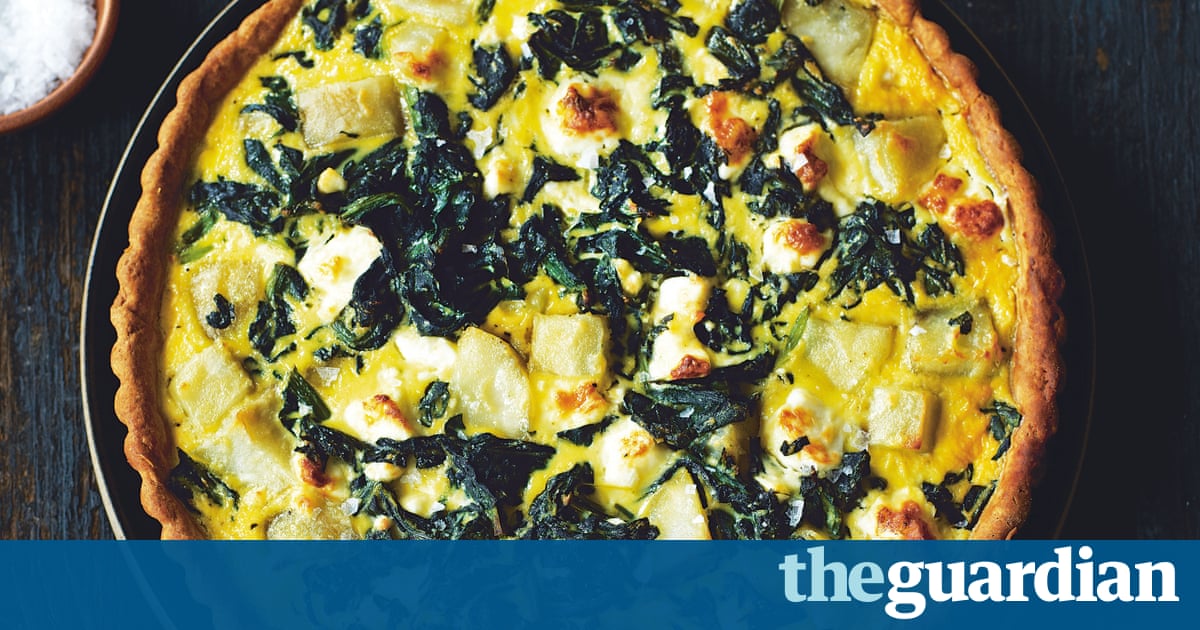 We Danes have stopped thinking about the dinner as revolving around meat and potatoes. More things are eaten raw than my grandmother would have imagined.
While my cook is quite different from my grandmothers it is still deeply rooted in tradition, but I use stronger flavours, more spices, more fresh herbs, different techniques. I grew up with cauliflower boiled to death or in a gratin with white sauce. Now I serve it in endless ways: raw, fried in butter, as a pure with chilli.
Inspiration from around the world has entered modern Danish cooking, and texture and combinings have shifted. It is lighter, a bit more complex in flavour, but without giving in on seasonality and still recognising the benefits of maintaining things simple.
Spelt tart with spinach, Jerusalem artichokes and feta
This tart is ideal for everyday cook and not that hard to make. Its also perfect for guests, as it can be made the day before, then heated up to serve. Serves 4-6.
For the pastry:
plain flour 100 g, plus extra for dusting
wholegrain spelt flour 100 g
sea salt 1 tsp
butter, chopped 75 g
skyr( quark) or fromage frais 75 g
For the filling:
Jerusalem artichokes 200 g
olive oil 2 tbsp
garlic cloves, chopped 2
spinach 500 g
eggs, beaten 5
full-fat crme frache 100 ml
feta cheese 200 g, crumbled
freshly grated nutmeg 1 tsp
sea salt 1 tsp
freshly ground black pepper 1 tsp
Begin with the pastry. Mix both flours with the salt in a large bowl, then rub in the butter with your fingertips. Mix in the skyr( quark) or fromage frais. Knead the dough lightly with your hands simply until the ingredients are blended.( Alternatively, pulse all the ingredients together in a food processor, adding a little water if the dough does not are working together .)
Roll the dough out on a floured surface and butter a tart tin or dish, about 28 cm in diameter. Use the pastry to line the tart tin, then refrigerate for one hour. Preheat the oven to 180 C/ gas mark 4. Line the pastry case with cooking parchment and pour in baking beans or uncooked rice. Bake in the hot oven for 15 minutes, then remove the cooking beans and parchment and bake for a further 5 minutes.
Meanwhile, make the filling. Peel the artichokes and cut them into 1.5 cm chunks. Heat the oil in a large saucepan, add the artichokes and saut for 3-4 minutes, then add the garlic and let it cook for about five minutes; take off the hot. If employing fresh spinach, rinse in cold water, then place in a separate saucepan over a medium hot and allow it to wilt. When it is just wilted, drain really well in a sieve.
Put the beat eggs, crme frache, feta, nutmeg and salt and pepper into a large bowl and mixture well with a wooden spoon. Fold in the drained spinach and Jerusalem artichokes. Pour the concoction into the pastry suit, return it to the oven and bake for 3035 minutes, or until the filling has defined but retains a slight wobble. Serve right away with a nice salad.
Cauliflower, prawns and dill
Read more: www.theguardian.com