Why follow the recipe when you can freestyle? | Brigid Delaney's diary
Meal kits are popular with busy people. But I opt trial-and-error cook even if I have to eat bad food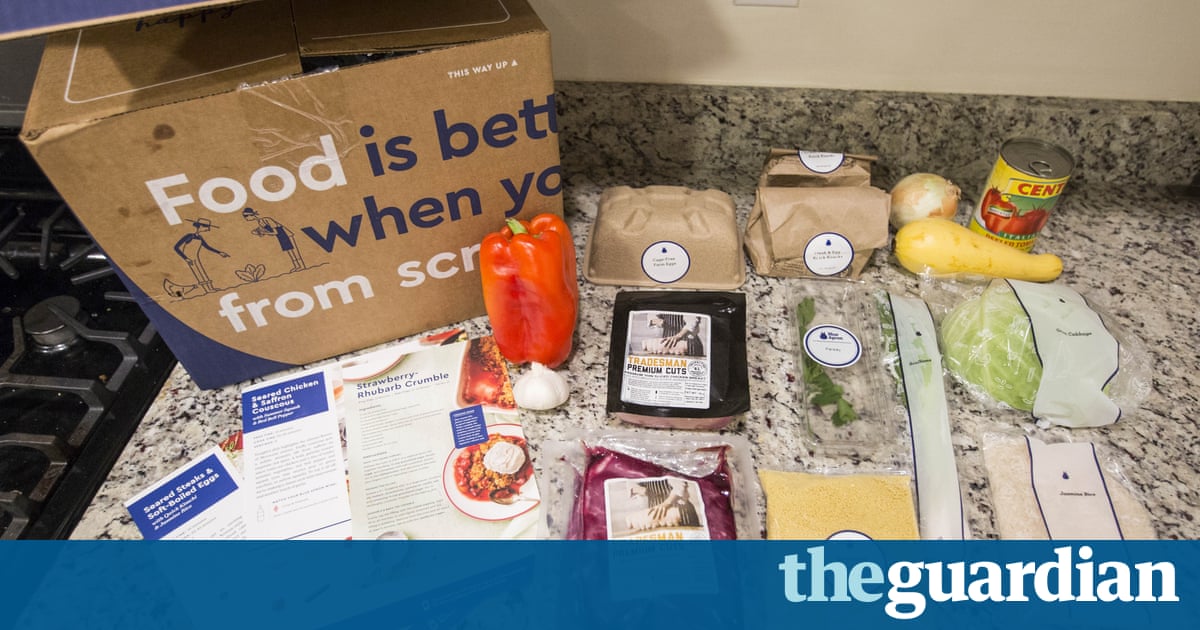 A child is born! To one of my favourite people in the world! I must cook for them. It's more useful than sending a pack of romper suits or one of those puffy books.
So I head to New York and plan to recreate some of my dinner party hits of the mid-to late 2000 s- celery risotto, Indonesian curry, chicken and almond salad.
The first snack- lunch on Wednesday, my friend said, would be" Blue Apron chicken tacos ".
" All the ingredients are in the fridge and here's the recipe card ," she said.
The ingredients, of which there were many, were in teeny-tiny packets( two stalks of spring onion, a pinch of cilantro ). The recipe was printed on a big, handsome card, like something you'd find in an art gallery gift shop. It was broken into three different stages and involved two sources of heat, the oven and the hotplate.
Blue Apron and similar services started appearing in the early part of this decade, and are becoming enormously popular around the world. For about $9.99 a meal per person, Blue Apron will send you ingredients and the recipes for three snacks each week. The food is partly prepped: some of the ingredients are pre-cut and all are measured and portioned precisely.
At first I went from instinct- putting the chicken in the pan. My friend, babe in limbs, watched from the couch." I don't think you're doing it right, you've got to follow the recipe ."
" Huh, what, shivering, recipe … whatevs …." But what to do with the little tub of creme fraiche, packets of sugar, a lime, and something called ancho chile paste? These were not things I usually used when attaining tacos.
Reading the recipe I realised the chicken "shouldve been" seasoned in the sauce and the cabbage should have been soaking in sugar and lime, which hurled me. I like lime and sugar in my margaritas, but not so much my cabbage.
So I retrieved the partially cooked chicken from the pan, and tried to marinade it post-browning in the ancho chile paste.
" Follow the recipe !" my friend said.
" I detest the recipe ."
There are two types of cooks, the individuals who follow recipes and those who freestyle. I am a freestyler, cooking from instinct, intuition and habit. Sometimes it doesn't work and I have to eat bad food. But when you're over the stove, adding a little bit of this, and a little bit of that- tasting as you go to see if it's working- cooking becomes more creative and playful. It's like a different part of your brain takes over. You enter that elusive state that musicians, artists and writers can access at their peak creative day … you go into flowing.
Recipes are instructions, which are the enemy of flowing. Following them feels too much like run, like assembling Ikea furniture, or getting a new telephone that you need to program from scratch. After run where the working day you have people telling you "what were doing", it seems unbearable to me to also have to follow a recipe.
Cooking the Blue Apron lunch became stressful once I started following the recipe. I was get flustered. This was more work than just cooking the tacos from scratch. I had to focus.
And it wasn't any less messy. The counter was strewn with these teeny-tiny packages- like I was preparing lunch for the residents of a doll's house. I was in a muddle, as I had followed the recipe from the middle then tried to go back to the start.
Maybe Blue Apron could be used as recruitment tool- as it would be handy to detect which potential employees can follow instructions and which get frustrated and bored.
I would never get a job though, if Blue Apron was the metric." Look at the waste ," I said to my friend- as I tried to extract two thin spring onion husks from their own individual wrapping. The bin was filling with all types of packaging.
" But there's no food waste ," my friend said." When you get a vegetable box you end up with a dozen capsicums when you only need one. Who's going to eat a dozen capsicums ?"
" You could stimulate capsicum soup !"
My friend and her husband passionately defended the meal service in the following days I was there. They are busy New Yorkers who work long hours and don't want to have to get takeaway when they return home at 8p m. The meal delivery service means you don't have to go shopping after work, and you don't have to think about what you're going to have for dinner that night.
" But shopping is great! Supposing about what to have for dinner is the best part of the day ."
But if you are busy, have a long commute, and like many people- "re going to have to" do more work or parenting when you get home- then something has to give. And that something is old-fashioned cooking.
You can, like me, mourn the decline of old-school cooking all you like- but the snack kits are here to bide. They're increasingly occupying that space between home cooking and eating out for a generation of people raised in restaurants.
In July Amazon released its first" meal kits" and trademarked the phrase:" We do the prep. You be the cook ."
Meals are priced between $15.99( for meals like" falafel patties with tomato& sumac salad ") and $19.99( for ones including" salmon nicoise salad with herb crust& olive aioli ") for two portions. Amazon also acquired the organic food giant Whole Foods in June- another connect in the dinner delivery supply chain.
Once Amazon enters the market you know we're headed for some pretty big interruption. Just look at the book industry. It's not just traditional snacks and cooking that have been disrupted but existing meal kit services.
Shares in Blue Apron, the largest purveyor of snack kits in the US, fell 2.5% in the first 20 minutes of trading after the news of Amazon entering the market. There was a previous deterioration of 11% when Amazon trademarked the motto:" Prepared food kits composed of meat, poultry, fish, seafood, fruit and/ or veggies … ready for cooking and assembly as a snack ."
It's better than takeout every night, I suppose, although I mourn trial-and-error cooking. Every meal may be technically perfect but the creation of them will be deathly boring.
Read more: www.theguardian.com