Why the NHS is getting patients boxing and drumming – BBC News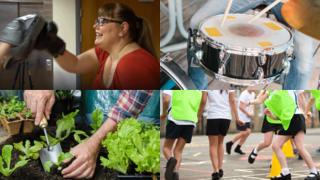 The NHS – as we know – is under pressure. One of the priorities for the coming years is to get people living healthier lives to avoided illness.
The health service is playing its part by believing outside the box and using novel ways to get people active and engaged with their health.
Gardening your way to health
As we all know, gardening can be physically hard work. Excavating or raking a lawn for 30 minutes requires as much energy as a 2km running, while trimming shrubs and plants is as good for you as walking.
So it should come as no surprise that some doctors are promoting gardening to their patients.
One of these is Dr Michael Dixon, a GP from Devon, who has been appointed NHS England's social prescribing lead to champ non-medical ways of treating patients.
"It can have a huge impact. GPs insure so many patients that don't inevitably need pills and potions but instead require something that gets them active, socialising or in touch with nature. What better activity is there than gardening? "
He speaks from experience. For the last 10 years his practise has been running a social prescribing scheme that refers patients on to local activities from dance and art to, of course, gardening. His practise has a fruit and herb garden and next year, thanks to funding from a local housing developer, their home communities garden will open.
Using boxing to get opposing fit
Working mum Alice was told she was at high risk of developing type 2 diabetes by her GP. She was referred by her doctor to boxing lessons to help her get fitter and lose weight in order to keep the disease at bay.
Her local surgery is taking part in a GP-led scheme in Leeds which is helping those affected by chronic illness to get fitter by offering exercise classes and advice to patients with a referral.
Alice told when her doctor told her she was at risk it "frightened" her and her family, but she says she's now enjoying "the power that you get from being a boxer".