Yotam Ottolenghi's Easter recipes
Yotam Ottolenghis Easter recipes An indulgent Easter menu of slow-cooked lamb, chocolate-orange monkey bread and a sweet, cheesy dessert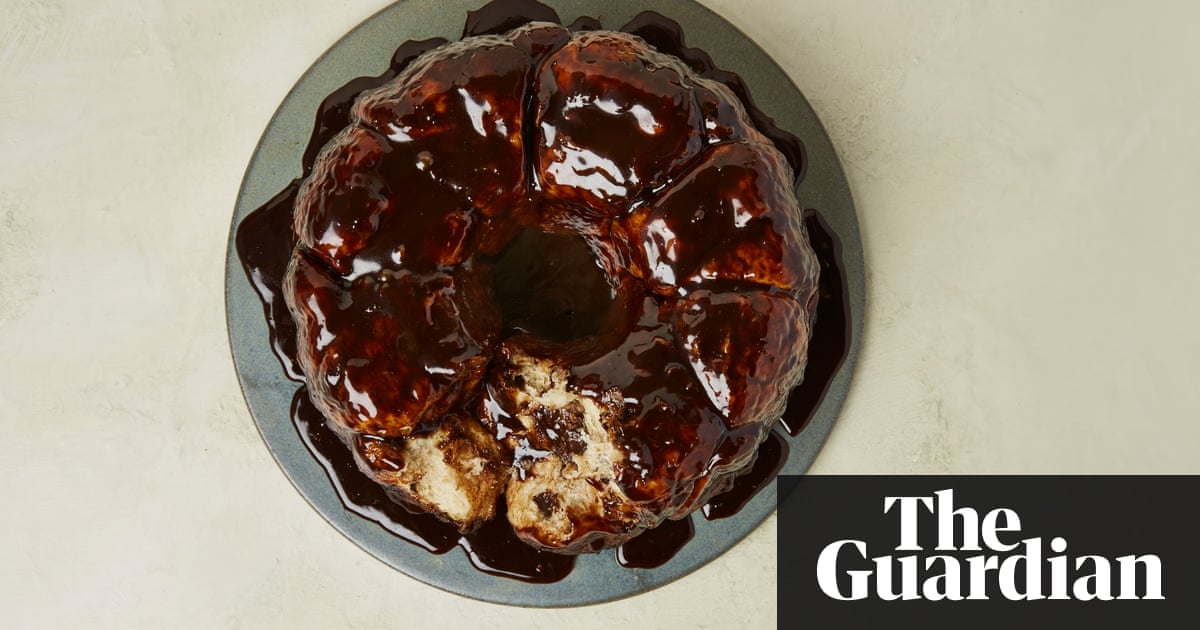 Like many other religious festivals, with their food traditions that stand on very feeble historical legs, Easter is, for me, simply an excuse to eat things I wouldn't normally indulge in. Chocolate-soaked bread? I'll have that as a morning snack. A rich shoulder of lamb with lots of lemon and mint? That'll be my main. And for dessert? A Middle Eastern cheesy bake soaked in cardamom sugar syrup. Feel free to pick and choose when you're doing the big shop for next weekend, but I'll be having the lot. Happy Easter.
Chocolate and orange monkey bread (pictured above)
Monkey bread is an enriched sweet bread made with lots of pieces of soft, sugar- or syrup-coated dough all stuck together, and you eat it by tearing apart the warm, gooey, soft bread, much as a monkey might. If you don't have a large bundt tin, improvise with a 28cm cake tin with an upturned bowl in the middle, to create a hole in the centre. The loaf will keep for two days, but it needs reheating before serving.
Prep 10 min
Cook 3 hr (including proving)
Serves 12
200ml whole milk
90ml water
40g caster sugar
60g unsalted butter, plus 10g extra, melted, for greasing
1 tsp vanilla essence
7g sachet fast-action dried yeast
280g strong white bread flour
280g plain flour, plus a little extra for dusting
¾ tsp salt
100g dark chocolate chips
For the sauce
135g unsalted butter
120g soft dark brown sugar
Finely grated zest of 1 large orange
80g golden syrup
2 tbsp Dutch processed cocoa powder
Gently warm the first five ingredients in a small saucepan on a medium heat for a minute or two, until the butter is almost melted and the milk is tepid – take care not to overheat the mixture, otherwise you'll kill the yeast. Turn off the heat, then whisk in the yeast and set aside for 15 minutes, until slightly frothy.
Put both flours and the salt in the bowl of a free-standing mixer with the dough hook in place, add the yeast mixture and knead for three minutes; start on the lowest speed and increase to medium, pausing every now and then to scrape down the sides so you incorporate all the flour. Transfer the dough to a lightly floured work surface and spread it out slightly. Scatter the chocolate chips in the middle, fold over the dough to enclose them, then knead for five minutes by hand, until it is springy and soft, and the chocolate is evenly distributed. Put the dough in a large floured bowl, cover with cling-film and leave in a warm spot for 45 minutes, until it has almost doubled in size. Meanwhile, brush the inside of a large bundt tin (24cm in diameter at the top, 20cm at the bottom, 8cm high) with the melted butter.
For the sauce, put all the ingredients in a small saucepan on a medium heat and cook, stirring frequently, for three to four minutes, until the butter, sugar and syrup have melted together into a thick, rich sauce.
Roll the dough into a long sausage, then cut into 24 equal pieces. Roll each piece into a ball, then drop them one by one into the sauce, until roughly coated all over. Put the coated balls of dough in the bundt tin, building up the layers in the tin as you go. When all the dough is coated, pour any remaining sauce over the contents of the tin, then cover and leave in a warm spot for 45 minutes, until nearly doubled in size again.
Heat the oven to 160C/320F/gas 2½. Bake the monkey bread for 35 minutes, until well risen and golden brown, then leave to cool for five minutes. Put a large plate on top of the tin and invert the bread on to the plate. Lift off the tin, leave the bread to rest and cool for 10 minutes more, then serve warm.
Slow-cooked lamb shoulder with mint and cumin
Read more: www.theguardian.com