NFL clears Peyton Manning in HGH investigation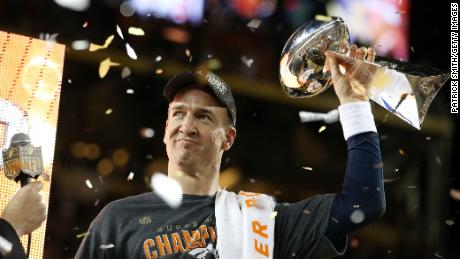 (CNN)Five months after winning Super Bowl 50 in his final game, Peyton Manning scored another victory this week.
The NFL announced Monday that it has found no credible evidence that the now-retired NFL quarterback was provided with or used human growth hormone, or HGH, which had been alleged in December in a documentary by Al Jazeera America.
The league also said there was no evidence that Manning had used any other performance-enhancing substances.
The accusation was made in Al Jazeera's report,
"The Dark Side,"
in December. The report claimed Manning was among a number of professional athletes, including other NFL players, who were provided HGH by Dr. Dale Guyer, the owner of an anti-aging clinic in Indianapolis. The report was based in part of conversations captured on hidden camera.
Former Guyer Institute employee Charlie Sly had alleged — before later recanting — that Manning and other athletes were provided with HGH from the clinic by mail. Sly claimed the packages were sent to Manning — then with the Indianapolis Colts — under his wife's name, Ashley Manning.
According to the NFL, the investigation was initiated in January and was led by the NFL's security and legal teams with support from consultants and other professionals. The investigation involved witness interviews, a review of relevant records and other materials, online research and laboratory analysis and review.
But while Manning is no longer an active player, four other players named in the report are still under investigation by the NFL: Green Bay Packers linebacker Clay Matthews, Packers linebackers Julius Peppers, then-Packers linebacker Mike Neal (who is now a free agent) and Pittsburgh Steelers linebacker James Harrison.
In June, the NFL said in a letter to the NFL Players Association that it planned to interview the four players.
"We have attempted since early April to work through the NFLPA to schedule them, but despite multiple requests the NFLPA has failed to respond, except to seek reconsideration of the basis for the investigation," the NFL said in June. "This continuing delay and avoidance has obstructed our ability to conduct and conclude the investigation."
Harrison took to social media in June, stating in an Instagram post that he would interview with the NFL under the following stipulations: "The interview will be done at my house. Before training camp. On a date of my choosing. And (NFL Commissioner Roger Goodell) must be present."
@NFL I look forward to speaking with you. Goodnight
The NFLPA also responded Monday to the Manning investigation.
"As a former player, Peyton Manning is free to do whatever he believes is in his best interest," the NFLPA said in a statement. "The Union knows that he understands the rights of players under the Collective Bargaining Agreement and would never do anything to hurt or undermine active players in support of those rights."
Read more: www.cnn.com