Rachel Roddy's cuttlefish pistachio polpette recipe | A Kitchen in Rome
Inspired by balmy harbourside evenings at a favourite Sicilan restaurant, these fritti marry firm but delicate cuttlefish with creamy pistachios and pine nuts, fragranced with herbs, then finished with a bold spritz of orange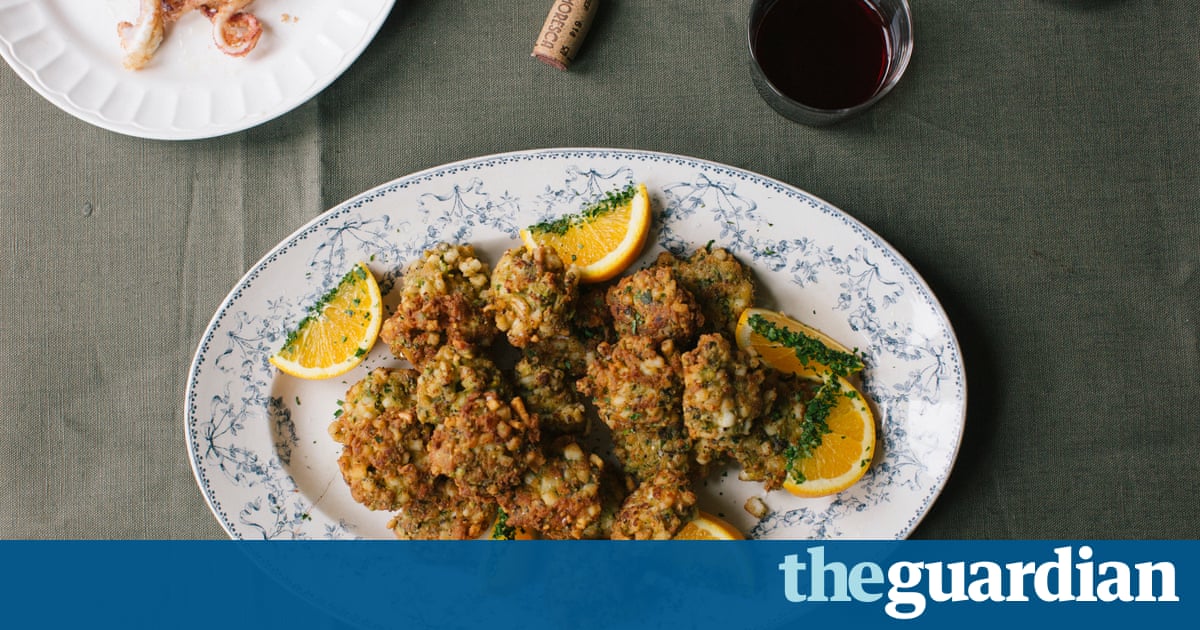 One way to prepare for a meal at Sakalleo, a restaurant in the southern Sicilian township of Scoglitti, is to visit the docks at about 3.30 pm to watch the second catch of the working day – your dinner- being brought ashore. Having moored in the sickle-shaped marina, big boats load their catch on to smaller ones, which are then rowed, burdened with the crates, to a concrete jetty. There they are unloaded for l'asta del pesce – the fish auction- which takes place in a blue and whitewashed concrete house next to the dock.
Anyone can join the boisterous auction, although only some of the fish does, much of it already destined for local restaurants and other townships, most notably the blood-red prawns and black lobsters still thrashing furiously. What is to be auctioned is loaded on to low trolleys supervised by men in shorts and Adidas flipflops, who then sell whole plastic crates of kite-like skate, coral and white mullet, coils of spatola ( silver scabbardfish) and mackerel with tiger stripes, to the best bidder.
We have bought fish here on occasion- the last time being an entire crate of mackerel, which I then tried, and failed, to preserve under petroleum- but mostly we come to watch. Standing at the back with our toes in puddles, we hope to see what we will be eating that night, as the owners of Sakalleo- one of whom is a most striking woman called Giada- supervise the arrival of the crates from their own boat. Later, while you wait for dinner with a luminous spritz, bowl of peanuts and a saucer of sausage rolls constructed with that typically Sicilian, virtually sweet, pastry, you can watch Sakalleo's boat bobbing in the marina against a campari-coloured sunset.