Play stations: Railway stops worth persisting at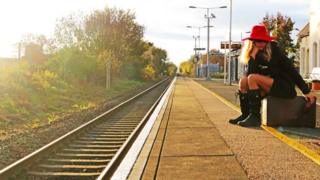 The golden age of rail travelling appears to be well and truly over, and stations absence the glamour formerly links with letting the train take the strain. Often unmanned and usually unloved, they are places to hasten through.
Commuters on the daily grind tend to be grimly decided when leaving a train. Heads down, elbows out, it's a fight to get to the exit. The only reason to pause is to grab a cardboard cup of something caffeinated before stalking out into the ice-spiked drizzle of a dark winter's morning.
But what if your station wasn't full of faceless coffee chains and people pushing? What if there was a station garden filled with fragrant shrubs, or an art gallery, or a top-notch local eatery?
Here are some everyday railway stations with added extras you may wish to linger at – or even arrive early for.

Leaves on the line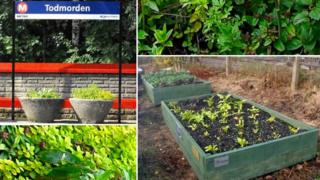 Todmorden railway station in West Yorkshire is a great place for the culinary commuter.
The westbound platform is lined with herb planters from which travellers are urged to help themselves, while created beds in the car park offer leafy greens – all free of charge. The Prince of Wales is a fan – he described the town's "incredible edible" project as "inspiring".
There is also a gallery in the former parcels office, which can be hired by anyone wishing to display artwork.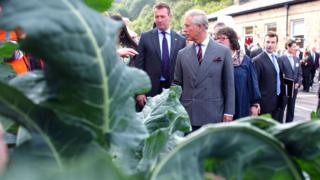 Off the beaten track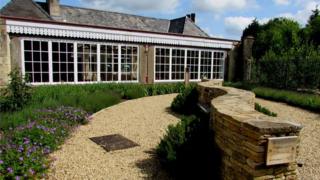 Prince Charles, clearly a fan of railway stations, also rocked up at Kemble in Gloucestershire in 2013 to open a garden accessible from the platform.
The once-derelict region has a sundial, is planted with attractive and fragrant shrubs, and seats are available for people wanting a peaceful hiatus between catching trains.
The prince admired a dry stone wall and accepted congratulations on recently becoming a grandfather, as well as cards and gifts for the newly-born Prince George.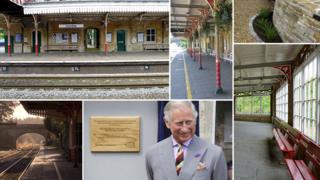 Butcher on the buffers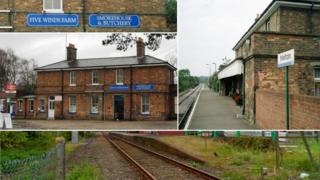 Melton, on the line between Ipswich and Lowestoft, is one of the few railway stations with a butcher on site.
The station itself opened in 1859, was closed in 1955, and reopened in 1984 following a local campaign.
Although there is a rail service, the station is unmanned – so there was a nice butcher-shaped space available for the purveyors of pork.
During the winter the Five Winds Farm shop specialises in local game, and the team have been national finalists in the awards known as "the Oscars of bacon".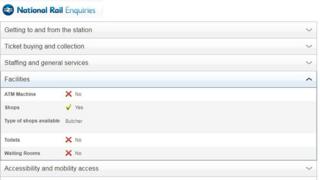 Whistle-stop cafe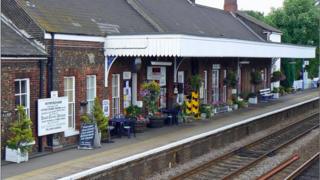 As well as being an attractive station, complete with hanging baskets overflowing with blooms, Wymondham in Norfolk offers travellers the chance to step back in time and dine in the 19 th Century building that houses the station bistro.
No curling sandwiches here – the restored coffeehouse, to provide us with seats taken from first-class railway carriages of yesteryear, provides homemade dinners and snacks and even a three-course Christmas menu..
Pronounced Windum, the station is on the main Norwich to Cambridge line.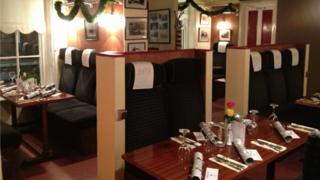 Art a-track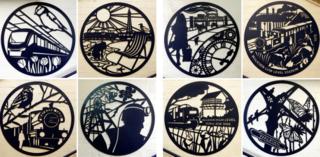 Artwork has been installed on the previously-bare walls of Walkden railway station, located on the Manchester to Southport line.
Ten laser-cut steel panels line the stairs to the platform, celebrating the history of the station as well as representing aspirations for the future.
Designed by artist Mark Mennell and students from Salford City College, the circular works are based around the theme of travel.

Letting off steam
Frimley railway station in Surrey is the place of of Little Street play centre, a series of themed rooms and props for children to let their imaginations run wild.
Ride-on vehicles include a police car and fire engine, and there's a feign air ambulance helicopter where children can pretend to be a pilot or a medic.
Big kids might enjoy the nearby miniature steam railway.